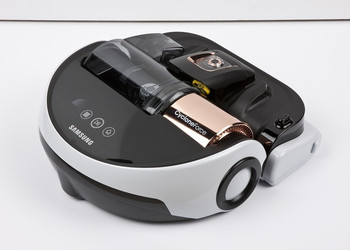 Hello guys, today I'm gonna talk to you about a vacuum cleaner. Cleaning and dusting homes were one of the toughest and boring jobs in the world for us lazy beings. Until Levi Dickenson a farmer of Hadley, Massachusetts invented broomstick in 1797. To make things easier, in 1860 Daniel Hess invented manual vacuum cleaner. Eventually, vacuum cleaners became one of the essential home appliances. Now vacuum cleaners are not just a home appliance they are smart, intelligent and capable of making logical decisions. Yeah! that's right, welcome to the future guys. As I have said, today I'm discussing about a vacuum cleaner. Not just a vacuum cleaner, a smart and powerful vacuum cleaner: The Samsung powerbot.
What is so special about Samsung Powerbot  Vaccum cleaners?
Design
The design of Samsung powerbot vacuum cleaner is straightaway unique. Unlike most of its competitors, this vacuum cleaner has a "U" shape. Aside from its aesthetic essence, this unique design helps the powerbot to clean corners very efficiently. This is one area were other circle-shaped vacuum cleaners fails to impress.
Suction
Samsung powerbot vacuum cleaners have one of the most powerful suction capability. The new powerbot R9350 claims to have 70x more power than its competitors. I don't know whether it is 70x or not but it is one of the most powerful vacuum cleaners I have ever seen.
Silent Mode
Another unique feature of Samsung powerbot is the silent mode. Besides being one of the silent vacuum cleaners, the powerbot has a super cool "Quite mode " making it surprisingly silent.
Point Cleaning (absent in some models)
Next unique feature of Samsung powerbot vacuum cleaner is the point cleaning functionality. The laser pointer in the remote control can be used to point wherever you want to clean. The powerbot will follow the pointer.
 5. Transparent Bin (absent in some models)
Another unique feature of Samsung powerbot is the placement of the dustbin. The transparent dust bin is placed on top of the bot making it easier for us to see whether it is time to clean the bin or not.
Easy Pass Wheel
One of the good thing about these bots, in general, is their maneuverability. The Easy Pass Wheel enables Samsung powerbots to move fast and efficiently on any surface.
Combo Brush (absent in some models)
Most of us have pets. And definitely, most of us are used to finding their hair on our food, mats, bed and everywhere.
Not anymore! the combo brush in Samsung powerbot takes care of the pet hair problem. The design of the combo brush enables efficient pick up of pet hair without any hassle.
These are some of the unique features of Samsung powerbot robot vacuum cleaners.
Other Features
Connectivity
Like its main competitors, the Samsung powerbot have WIFI connectivity (some models doesn't). Enabling the bot to seamlessly integrate with Amazon Alexa and other home automation systems. In other words, the powerbot can be controlled from anywhere in the world.
Mapping
Similar to its competitors, the powerbot have a virtual mapping system, which Samsung calls as Visionary mapping system. The system comprises of a digital camera coupled with nine individual sensors. The camera on the top enables the bot to scan the ceiling and create a virtual map of the room.
Ever wonder why the camera is placed on top? The answer is simple. We move our furniture around all the time confusing the bot about the boundary and its territory. Whereas the ceiling remains unchanged. Making it perfect point of reference for virtual mapping.
Height
This is where some Samsung powerbots is going to have some problem. The height of latest bots is about 5.3 inches compared to its competitor's 3.6 inches. Making it difficult for the bots to crawl under furniture with low clearance. But there are models with the lower height. Like Powerbot R7090, R7070, R7040, R7010
Powerbot Options
Samsung powerbot offers a range of models with varying capabilities and features. Available variants are; R9350, R9250, R7090, R7070, R7040, R7010 .
Their specs are listed in the table below
| | | | | | | |
| --- | --- | --- | --- | --- | --- | --- |
| | | | | | | |
| | | | | | | |
| Suction | 70X MORE | 50X MORE | 40X MORE | 40X MORE | 20X MORE | 20X MORE |
| Visionary Mapping Plus and FullView Sensor 2.0 | | | | | | |
| Wi-Fi – Works with Amazon Alexa | | | | | | NO |
| CycloneForce Technology | | | | | | |
| Multi-Room Navigation | | | | | | |
| Point Cleaning | | | | NO | NO | NO |
| Scheduling | | | | | | MANUAL |
| Edge Clean | | | EDGE CLEAN MASTER | EDGE CLEAN MASTER | EDGE CLEAN MASTER | EDGE CLEAN MASTER |
| Brush Type | COMBO BRUSH | COMBO BRUSH | SELF CLEAN BRUSH | SELF CLEAN BRUSH | COMBO BRUSH | COMBO BRUSH |
| | LARGE | LARGE | MEDIUM | MEDIUM | MEDIUM | MEDIUM |