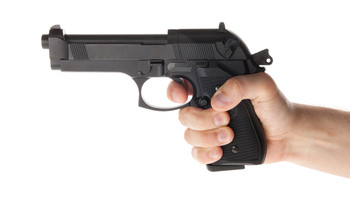 As an airsoft gun user, you would always experience great thrill and enjoyment while playing with it. But, do you know that your airsoft gun needs regular upkeep for providing you the best experience and everlasting fun.
Zero maintenance is just a myth. You cannot afford just to throw away your airsoft gun when not in use. You have to maintain it properly.
Obstruction usually happens due to improper maintenance and inadequate care of airsoft gun.
Keeping your airsoft gun clean and well maintained is significantly important when it comes to safety and uninterrupted functioning.
Here are the few maintenance instructions that can help you to have the right function with no trouble:
1. Barrel Cleaning
Your airsoft barrel needs to be cleaned on a regular basis. And cleaning out the barrel is quite simple.
All you need to do is to clean rod with the help of a good quality paper towel. So, for doing this just follow the steps as shown below:
• Use a strip paper of size 3inches long and a half inch wide to thread the cleaning rod tip.
• Make a light spray of silicone on the strip
• Insert the cleaning rod into the barrel
• Gently spin the rod just moving towards the down of the barrel and repeat this process for perfect barrel cleaning
2. Lubricate your gun
If your gun is frequently jamming or misfeeding, you need to lubricate your gun. And for lubricating, you need to remove the magazine and fire in semi-auto mode.
So, just make sure that hop up is free of BBs and then, place the gun on your lap.
Now, spray silicone oil into the hop and allow the hop to remain in that position only so that oil can get soaked into the hop up.
Likewise, you also need to lubricate gearbox where you will need to remove the motor.
After removing the motor, you will see a small hole just at the bottom of the gearbox.
Here, you will need to spray silicone oil and then leave the gearbox in that position only.
3. Magazine care
Care for magazine varies as per the type of airsoft gun you are using. So, for electric and spring airsoft guns, you will need to empty airsoft guns after every use so that spring strength can be maintained.
When you have a gas airsoft gun, magazines should remain pressurized. This will help to keep its component perfect with no damage.
If you are using the airsoft gun that doesn't have silicone lubricant, you should add it on a regular basis.
Here, you should keep in mind that you never use a valve to release the gas otherwise o-ring could freeze and may cause gas leakage in future.
These are the basic maintenance tips for your airsoft gun. If you are looking more such tips or looking for an airsoft gun with the maintenance kit, you can visit many online sites that offer airsoft gun.
You may also prefer airsoft stores in the UK to have the full range of airsoft gun at the cost-efficient rate.
If you like this post, please don't forget to like, share and comment.
Author Bio: Edwin Smith is a lead blog writer, blogger & content marketer, he publishes and manage the contents on many blogs. Edwin writes about lifestyle, technology, travel, health and more. He has been in the marketing industry since 5 years and with a very valuable experience in this industry, He has marked his footprints as a renowned guest blogger in Bangalore.