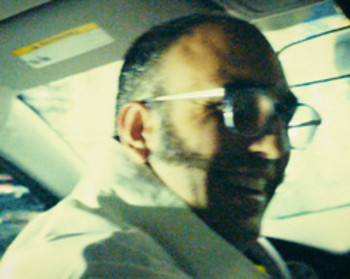 Feelings, Mr. Flannery would tell you, are complicated things. Happiness, sadness?, leave the simple stuff to the amateurs. No, Mr. Flannery And His Feelings are after something a little subtler, a little more thoughtful, and ultimately, more provocative: gray areas, moments of ambivalence, aches, sudden breakthroughs, lightning-flash realizations. Try Your Hardest, the first album from Michael Flannery's new project, is a flood of feelings that you don't ordinarily find in a pop song – artistic isolation, admiration of a friend, the wistfulness of a sailor lost at sea, appreciation for a killer goldfish. This is Mr. Flannery's gift: he can take an emotionally complicated subject and present it to his listener in three minutes of smart, accessible, instantly memorable music.
Try Your Hardest is a bravely varied album. On it, Mr. Flannery tackles synthpop, new wave, hard rock, abrasive punk, funk, and even a little calypso. In order to share with you the breadth of his writing, we're sending you two videos today. "Embers Of Dead Fires", a stark, chilling pop-rock track with roots in reggae, is paired with a noir-ish clip that shows a chained Mr. Flannery in peril. "Pushing Up" is just the opposite: it's a singalong with a synthesizer hook, a catchy chorus and a hip-hop beat. In its video, Mr. Flannery is free, and enjoying a beautiful day; it's a celebration of the quotidian, and an acknowledgement of the underrated beauty of domestic routine.
http://www.mrflannerymusic.com/
These two clips couldn't be more different. But they don't contradict each other; on the contrary, they feel like twin expressions of a coherent and fully developed vision. Released through Hudson County's Rhyme And Reason Records, Try Your Hardest is a debut of sorts, but Michael Flannery is no newcomer to music. He's been a presence in New York and New Jersey music for many years as a producer, arranger, sound engineer, collaborator, sideman, and sounding-board for other artists. Like other studio auteurs who've taken a step into the center spotlight – Brian Eno, Thomas Dolby – his music makes an indelible sonic imprint that could never be mistaken for anybody else's.