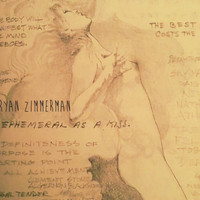 Ryan Zimmerman sings with soul on the down-to-earth style of "Ephemeral as a Kiss". A loose, laid-back vibe informs the entirety of the collection. The way the entire collection comes in and out of focus lends it a dreamy aura. Lyrics further emphasize this spacey quality, as the vocals have an intimacy to them. Easily the highlight are the masterful vocals, which have a playful sensibility that lends them a true spirit of pure joy. Presenting a thoughtful balance Ryan Zimmerman keeps the arrangements to the absolute essentials, allowing every single flourish to shimmer and shine with such grace.
https://ryanzimmerman.bandcamp.com/album/ephemeral-as-a-kiss
After a short sample "The Reason" sets the tone with an energetic rhythm. Guitar and drums intermingle in a masterful way, while Ryan Zimmerman's storytelling ability is on full display. The stream of consciousness approach works quite well, as the track rushes through a series of small events with such style. Slowing things down a bit into a meditative trip "Backpacks" incorporates a little gentle humor into the proceedings, allowing the track room to sprawl out in full. Spacious and ambitious "Lola and John" rests in the center of it all, serving as the true highlight of the entire collection, showing off Ryan Zimmerman's uncanny ability to sculpt a poetic narrative, one that becomes fully entrancing. Funk comes into the mix on the casual cool closer "For the Meek".
https://ryanzimmermanmusic.com
Exploring the world with a reflective optimism, Ryan Zimmerman's "Ephemeral as a Kiss" chooses a unique path for its warm folksy temperament.
By Thomas Luncha