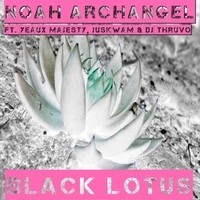 In a generation of evolving talents, many new artists are gradually hitting the limelight with their innovative thoughts and ideas. 'Band of the Hawk' is a group of some of the best-talented souls that have evolved with time with their innovative style of Hip Hop music creations. They have recently released their first single, 'Black Lotus' which is already a massive hit among creative music lovers.
'Black Lotus' features Noah Archangel, the lead singer of 'The Band Of the Hawk', who has returned back with this single from his perpetual project titled 'The Machine Wars: The Song Of Solomon.' Black Lotus not only entitles the first single released this year but it also associates Noah Archangel as the director of his debut video.
The visual features of 'Black Lotus' are exceptionally remarkable which further enhances the quality of the single track. The theme of the song accompanied by spectacular visuals of outer space and resonating stars creates a marvelous journey gracefully unfolding the interesting concept of the song. The performance of the competent artists is balanced, professional and intriguing.
Black Lotus not only appeals with its compelling video but also the skillful accomplishment of various artists as the song is further enriched with special appearances by Yeaux Majesty, Juskwam, DJ Thruvo and Band Of the Hawk.
A special mention is the incorporation of the rich electronic dance music in the backdrop which sharpens the atmosphere of the song enrolling their audience into a variation of stylish rap hip hop number.
The rapping section of the song is a well-synchronized part with an equally rhythmic instrumental association. Noah Archangel's clear and distinguished vocal takes the song on an amusing journey of energy and fun. The rapping section though kept quite simple yet his warm and confident vocal tone is, as usual, stylish and attractive.
Right from the beginning of the song the lyrical structure is balanced to flow as an integral part of the gliding musical harmony. Each of the artists has cohesively input their best efforts individually yet mingled well together which leaves the song attractive and memorable. The concept of the whole project is brilliantly executed with strong, interesting lyrics and highly entertaining video.
The song is efficiently coupled with a distinct rapping which glides through each of the verses in a unique and balanced lyrical flow which hooks the audience into a manifesting enthrall. Socially conscious words encouraging pop-culture engrosses the song into another compelling attribute of art.
Noah Archangel impresses his audience with his powerful thought-provoking words but brings them in a light, clever atmosphere of optimism. The production quality of the song and video is brilliant and original.
Band Of the Hawk brings forth their amusing talent in the silhouette of their debut song, 'Black Lotus,' from their series album, 'The Machine Wars: The Song Of Solomon', which is bound to offer its audience a beautiful voyage with melodious rapping and rhythmic instrumental arrangement.
– Liam Brown