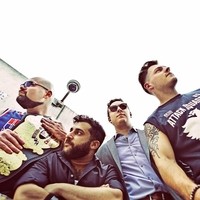 The U.S. American deliver defiance on the rebellious spirit of "Greatest Hits". Jagged guitar riffs, shouted lyrics, and infectious rhythms, everything about it views the U.S. through a critical lens. Consumerism, lack of geographical knowledge, yet they have a patriotic edge as displayed on "FCK THE KGB" as to be a true patriot means to be critical. Over the course of the album the U.S. Americans display an incredible level of genre mixing, allowing for elements of dub, funk, dance, all anchored by a punk influence to let the songs truly shine. Everything simply works for these tracks burn through with such passion.
After a particularly well-picked sample things explode with the confrontational guitar work of "Playtime" which delves into a carnival-esque attitude. Slowing things down a bit "Money In America" moves forward with a great amount of swagger. Oddly addictive "Dance Song 17" sprawls out with a strange kind of post-punk anxiety akin to Television's "Marquee Moon". Undeniable twisted chops reveal themselves on the low-slung grooves of "Manolo". Menacing atmospheres emerge on "Movies". Dreamy worlds emerge out the surreal imagery of "King Someday" letting everything merge into a glorious swirl. Giddy energy powers the catchy weirdness of "Lazy Suzy". Tapping into the Ramones' stripped down, no nonsense style is the potent "FCK THE KGB". Gentle everything comes together on the intricate "Dentist Street".
https://www.theusamericans.com/
Embodying the best of punk rock, the U.S. Americans present a playful snide world with "Greatest Hits".
By Jimmy Rosado