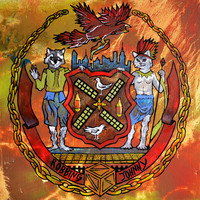 Robbing Johnny delivers a stylistic tour-de-force on the powerful "Cold March". Neatly merging folk, indie rock, rap, and the singer-songwriter tradition into a potent whole, Robbing Johnny proves to be a deft storyteller. Over the course of the album Robbing Johnny focuses upon the unique worlds that come together to make up New York City. Clearly singing from experience Robbing Johnny offers an intimacy to his vignettes, letting the little details further flesh out his stories. Attention to detail means that the melodies resonate, the way they evolve and burst into color with just the right level of care.
A near-whispered style introduces the lovely "Sylvia" with references to the 4 Train and The Bell Jar giving it a feeling of being so alive. Hip-hop lets the title track "Cold March" show off Robbing Johnny's impressive flows. Beats hit hard on the electro-glow of "Bodega Vegan" where Robbing Johnny recalls the weirdness of the party life. Easily the highlight of the album comes with the tremendous triumphant "Grandfather's Jacket". Playful to its very core "Summer Sux" neatly embodies the awfulness that can be a New York City summer. Gentle guitar work graces the tasteful sunny spirit of "Worms In The Soil". Perfectly bringing the album to a close is the poignant acapella of "Cold March Reprise".
"Cold March" shows Robbing Johnny going for a painterly approach to songwriting, allowing the entire album to feel akin to a novel, with each song a chapter.
By Sally Menrach