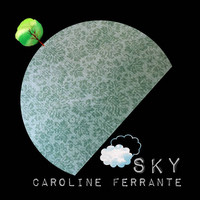 Caroline Ferrante sings with a sunny optimism on the fantastic thoughtful pop of "SKY". With such an incredible fervor, Caroline Ferrante shows off her considerable chops. Over the course of the collection Caroline Ferrante draws upon twee, country, classical, jazz, all brought together through carefully woven stories. Attention to detail works wonders as she incorporates guitar, ukulele, piano, giving her work such warmth. Downright comforting Caroline Ferrante opts for a poetic quality to her pieces, helping to imbue them with a strong sense of life.
https://carolineferrante.bandcamp.com/
Stripping things down to the essentials "Feels Like a Holiday" has a joyous choir. At first quite small the way that Caroline Ferrante incorporates additional sounds into the mix feels outright masterful. When the percussion enters the equation things really start up. Easily the highlight of the collection "Better Angels" chooses a bluesy temperament while everything works itself up into a frenzied, fiery passion. Featuring a perfectly executed melody the track has an expansive, all-consuming presence to it. Tremendous energy pours out of the rush of "Great Big Beautiful World". Choosing an almost rainbow like energy layer upon layer of sound comes into focus as the song evolves with grace. Caroline Ferrante really shows off her voice on the angelic "Symphony". Letting things start soft, Caroline Ferrante allows for a little bit of shoegaze to give the song an atmospheric vibe.
https://www.carolineferrante.com/
By choosing such an eclectic blend of styles Caroline Ferrante delivers an incredible kaleidoscope of color with the powerful "SKY".
By Vince Rodman