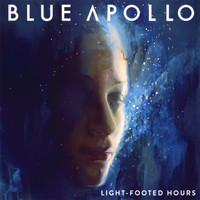 When I pushed Play on "Circles", I was instantly attracted to the glorious sound coming through. Blue Apollo is firing off a Hit Song here that is sure to take off and make a successful landing. This four-piece band from Dallas, Texas has created a sound that is insanely compelling.
"Circles" is a bonus track Blue Apollo added to their debut LP titled 'Light-Footed Hours' and thank God they did because what a miss that would have been! With all of the catchy Pop sensibilities and dance elements, I am an automatic fan! And singer Luke Nassar produced such pleasant melodies and tones with his voice where it came across as a cool dose of Soulful, Indie-Pop. Luke Nassar, Jeremiah Jensen and Rodman Steele are the founding members of the group and now include Jean Paul Labastida on lead guitar. Together, these musicians have come up with music that invokes emotion while also incorporating that Radio-friendly vibe that is just the right size, shape & fit.
There is even an official music video for "Circles" that has such a smooth, professional touch and comes across as a video that probably should have over a million views by now due to the star quality portrayed by the band. "Circles" is shaping up to be one monster of a song with so much damn potential to be HUGE! I can't wait to hear more from Blue Apollo now because I sense something very special forming here with "Circles".
By Jimmy Rae (jrae2@att.net)