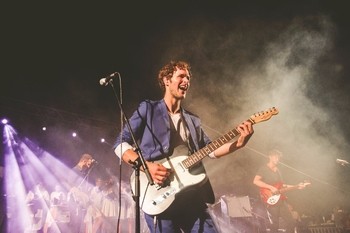 London-based Greek indie-pop experimentalist Leon Of Athens has revealed live footage of 'Xenos', performed at SNFCC. The song is the title track from his forthcoming album, produced by David Kosten (Bat For Lashes, Everything Everything), due out on February 9th.
The performance opens with dark, pulsating synth parts before building with celestial choral voices in an epic arrangement into a glorious climax, with Leon's awesome stage presence and intriguing lyrics creating a mesmerising display.
The album Xenos is a beautiful, thoughtful piece of work, informed by the Syrian refugee crisis, the rise of fascist groups in Europe and Brexit, but also personal upheavals: fractured relationships, lost faith, youth, freedom and death.
PHOTO CREDIT: MARIZA KAPSABELI