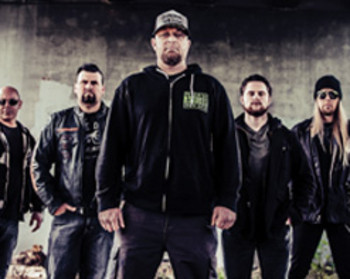 Seattle-based band, Arisen From Nothing offers a lethal brand of metal infused with an adrenaline shot of groove in a sonic rage sure to catch your attention. The 5-piece musical tsunami is made up of fearless frontman, Jessie Bringham, 6-string shredders, Troy Elmore and Steve Pontius on guitars, Eric Hanson on bass and Brandon Fuller, a former member of national touring act, Ghost Town Rebellion, on drums. They've teamed up with Montreal-based record label Collective Wave Records for the release of their new album, Broken, with their lead single, "Chaos" as their fervent battle cry.
http://www.arisenfromnothing.com/
Since the band's inception in 2008, so much has changed. Just in the past year, member changes have created a true narrative of redemption among the group. In fact, this theme happens to be the namesake of the band itself. The name has always been a nod to the mythical phoenix who cannot be destroyed, according to the Seattle rockers. "In death or defeat, it experiences a rebirth in fire and rises again, greater than before. We have always been big fans of rising to the next challenge and overcoming obstacles, so it seemed a perfect fit."
And fighting the good fight they are! AFN recently released Broken, on September 29th, 2017. Aside from the nuances of working with new band-mates in and out of the studio, they're jbarreling into more uncharted territory by working with Collective Wave Records in support of the album. In the face of these new challenges, the band has utilized the model of the phoenix and are now reborn as a rejuvenated force to be reckoned with in the rock world, as exemplified in the album's lead single, "Chaos".