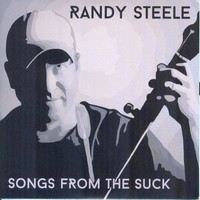 Randy Steele's "Songs from The Suck" represents the best of Americana. Folk, country, bluegrass, all of it comes together into a heartfelt whole. Everything works wonders from the passionate fiddle work to the nimble guitar strums that gently glide the songs along. The album runs the emotional gamut from the purely celebratory to more reflective, introspective pieces. What truly ties the entirety of the album together is Randy Steele's thoughtful narratives he weaves throughout, with pitch perfect delivery leading the way. Things are kept to the absolute essentials, and through keeping things so focused Randy Steele crafts an album with true soul.
Audio: https://randysteele.bandcamp.com/releases
"Northbound 29" begins the album off with a real kick. Wasting no time at all Randy Steele rushes into an outright blur. Things are brought to a thoughtful whisper on the yearning spirit of "Mobile Soon". Infectious to its core is the celebratory "Eliza Mae" where Randy Steele incorporates a rich full-bodied band into the mix. Slowing things down a bit "Hard Givin'" opts for a reflective, almost meditative temperament while the track evolves gradually. Randy Steele sings with a great kind of intimacy on the tender "Visitation Day". Toe-tapping and beautiful "One Man Stringer" speeds through with a giddy energy. Bringing things to a stunning conclusion is the raw grit of "…To the New Perspective".
https://www.randysteelemusic.com/
Throughout "Songs from The Suck" Randy Steele highlights what a life truly holds, from the smallest vignettes to the largest problems a person could face, and does so with the utmost of grace.
By Ben Rahan