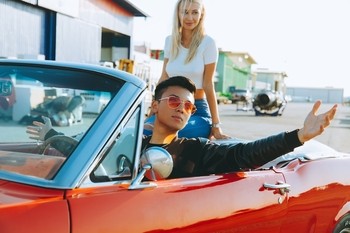 Hot off the heels of his viral video "Despacito Reaction" and the emotional and empowering debut single "Everyone is Beautiful", comes pop singer Sunny Lukas' new single "Ain't Nobody". This music video shows a different side of Sunny. Sunny isn't the type of artist that boasts a life of luxury but moreso an authentic, real, boy-next-door that just happens to like a girl. "For this music video we did something simple to show who I am as an artist." says Sunny.
"I am really a diverse person. Growing up in Hong Kong is such a clash of cultures. A lot of my friends are from different countries. I lived in England for a couple of years as well as Beijing and Singapore and traveling with my mom at a young age contributed to my diversity in music and who I am as a person. I really like to describe myself as a global citizen… For this music video, I wanted to use more of an eccentric, vintage, urban L.A vibe." This music video is very personal to Sunny.
If you haven't seen the "Despacito remix" video, you need to! His Spanish is so good that his "Despacito Reaction" video went viral. The Latino community was actually very impressed and embraced him with arms wide open!
Soon after the "Despacito remix" video, Sunny dropped another hit video "Everyone is Beautiful", his first single. The message behind this amazing music video is to let everyone know that people shouldn't worry or spend too much time trying to look like everyone else. Every individual is different and unique in their own way, thus it is what makes them special. A true, inspirational message that everyone needs to hear.