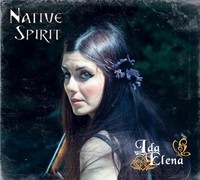 Ida Elena revels in the natural beauty of the world with the intimate "Native Spirit". Her voice serves as the focal point of the piece with all else stemming from it. A tribal rhythm allows her to explore such lush terrain. Layer upon layer of sound interact in a glorious way, the way that the buildup occurs with such majesty. A cinematic flair imbues itself deep within the song's DNA helping to give it a soulful quality. Dreamlike with her lyrical imagery, Ida Elena allows a great deal of power to pour forth from the track's unique vision.
Drums introduce the piece giving it a strong, consistent bass quality. With this steady, clear-eyed approach the song gradually comes into focus. Upon the introduction of her voice into the mix the piece begins in earnest. Nicely pared with the rhythm her voice grows with the intensity of the rhythm. A physically informs the entirety of the track while it grows and grows until it simply bursts with energy. Upon realizing this moment, the way Ida Elena allows the song to roam free feels glorious. The sweeping energy that defines this climax has a satisfying, graceful element to it. Soaring high, the piece delves into a meditative state, before it bursts forth once more for the fevered pitch finale.
https://www.facebook.com/IdaElenaMusic
On "Native Spirit" Ida Elena chooses a gorgeous path, one that celebrates the wonder that thrives in the world and so often goes unnoticed.
By Dean Whitehead