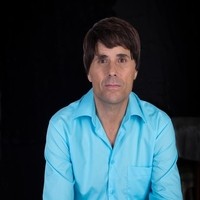 Mike Derek went from being raised on a farm in Ontario, Canada singing in church choirs, to a singing competition in Nashville and was selected as one of two people who auditioned to record with famed Producer Richard Donahue. Richard set up a 3-song demo at Landshark Studios in Nashville and the rest is history. Mike recorded a single "Down in the Boondocks," then a 10-song album called "Escape," which was well received in record sales.
When not singing he spends his time on visiting seniors in Nursing and Retirement Homes and sponsoring a child from World Vision. "My Dad" is out now on iTunes.
REDMP3: http://mp3red.cc/album/5962592/my-dad.html
Not being familiar with Mike Derek, it took some time to get used to this single written by Barry Mann, Cynthia Weil, of which I was also not familiar but glad I am now, and glad I heard this track and made the distinction. Derek is a killer crooner with all the skills to pull off this short but substantial song about anyone's father.
It's rooted in a universal topic that doesn't hold to any one specific person, but to everyone. If you take anything away from it, that will be the first thing. It's not aimed at one, but all dad's.
The song might sound like it's paid to his dad, but that's because it is, as well as anyone else out there who can relate. It's meant to bring joyous thoughts to the world in honor of father's. At least that's the vibe I got, and will continue to get as I leave it in my playlist. I was immediately compelled by the guitar which is mostly country inflected. This matches his rich baritone-heavy voice which ultimately takes over the entire arrangement with immaculate tone. It's clean and rich, which showcases more than the song itself. That's why it's a great piece to build his voice around.
In-finding out more, there's also a video clip as well, with a long intro that shows Derek himself as the character Zack, talking with his "mum" on the phone before going into a performance of the song. The clip runs over seven minutes long, with the intro of course taking up conversation about not making it to Father's Day because of work. It's well-depicted to make sure it's left up to the listener to apply their own imagination to, and relate it to all dad's. But I had to watch the video to learn that, so no further spoiling it from that perspective. So, I won't give away the end of the video, nor the lyrics.
Happy endings are all that matters, and this is the ticket for the holidays or any time of year for that matter. Mike Derek leaves more to be desired, so it's only natural to suggest and EP or full-length LP follow this single, or another single, but hopefully an album from this Adult Contemporary/Country/Classics artist too.
The world could use much more where this comes from, and that's putting it mildly. Check out "My Dad" and even without that in mind you'll find it as gospel as the song and his voice put together. It's contagiously vibrant and authentically recorded.
Larry Toering