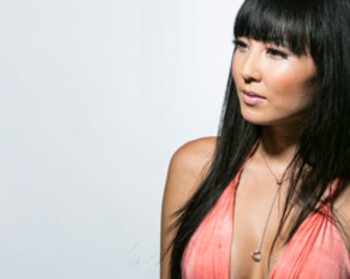 The first two minutes of "Love Unconditional" are so fully propulsive and beautifully hypnotizing that it's hard to believe that there's virtually nothing on the track but piano and voice. Welcome to the beauty that is Natalise + The Sunset Run. That's the kind of player and singer Natalise is: one who can captivate listeners without ever needing to resort to flashiness. She's modest; that's a big part of her charm. But when you focus on what she's doing — the confident and fervent way she strikes every chord, her sense of time and phrase, her authenticity with every note sung — her years of training at the San Francisco Conservatory of Music become apparent. This is a pop song, yes, but it's one played by a schooled artist who understands both how to write a crowd-pleasing chorus and how to satisfy an exacting critic. Even when the rest of the Sunset Run come crashing into the track at the two minute mark, the classical flourishes of "Love Unconditional" aren't erased. On the contrary: right where many singer-songwriters would place a guitar solo, Natalise introduces a string section.
http://www.nataliseandthesunsetrun.com/
That sort of quiet unpredictability has always been a hallmark of Natalise's career. She's a different kind of pop singer — one with an extraordinary sense of poise and a polite refusal to conform to convention. All of her work — her songs, her music videos, her live performances — radiates self-possession. "Love Unconditional" is, among other things, a self-affirmation anthem, but even if she wasn't singing about acceptance and belief, we'd still get the message. Television producers have noticed. Natalise has placed music on "One Tree Hill," "Gossip Girl," "Degrassi: The Next Generation," "My Super Sweet Sixteen," amongst others hungry for the dramatic sweep that she and the Sunset Run produce so effortlessly.
The ocean is a recurring motif in Natalise's videos, and that isn't just because she calls seaside Los Angeles her home. It's a powerful visual metaphor for the undulations of emotions we all face in life, accented by the near-tidal pull of her piano playing. Kenny Choi's beautifully-shot clip for "Love Unconditional" captures Natalise by the ocean, silhouetted by the setting sun over the Pacific. Choi also shoots Natalise at her piano — where she's as natural and comfortable as a bird in the sky — and in a grove of cherry blossoms, in a forest of streetlights, on a city street-corner on a day drenched in sunlight, and in many other breathtakingly beautiful settings. The meaning is clear: here is an artist, and a song, of uncommon grace, with a message about one of the hardest loves to attain: self-love.