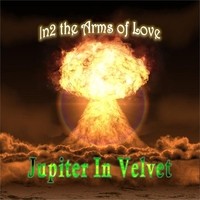 Jupiter In Velvet runs the gamut with an explosion of sound that is like no other.  This one-man, wrecking crew & chameleon of sorts brings a wide array of musical elements, styles and tastes to his new album titled 'In2 the Arms of Love'.  I'm no stranger to Jupiter In Velvet and his eclectic act as I interviewed the UK-based musician back in 2015, (https://skopemag.com/2015/01/07/blasting-off-with-jupiter-in-velvet), and knew then that this guy was no joke.  Jump ahead a few years and I have to say Jupiter In Velvet sounds better than ever with his latest release 'In2 the Arms of Love'.  Dubbed by some critics as "Alt-Pop Psychedelic Rock", "Electro Dance Rock" and "Alt-Punk", I would agree Jupiter In Velvet is all that and then some but with so many more colorful layers to peel away.  I like to think of Jupiter In Velvet as David Bowie meets Iggy Pop embodying all of the attitude, artistry and appeal that both Bowie and Pop so brilliantly portrayed and conveyed to the audience.
The title track is the first song on the album and what an exciting way to start the show.  The listener will hear power-packed vocals and an electrifying sound on "In2 the Arms of Love".  Get ready for a dose of Spacey Rock on "Til' The End of The World" where you might as well let loose and party like it's "1999".  Next up is a breakout single that has picked up a lot of steam since its release and the song is called "I'm So Ready".  It makes sense that this track is getting a ton of traction because it has such an infectious hook that consumes you.  "I'm So Ready" offers up a heavier presence on guitar as well as a tough-as-nails approach that Jupiter In Velvet hammers home.  I can't help but get amped up listening to "I'm So Ready" because it's the epitome of a fist-pumpin' anthem and the energy is off the charts.  You can SKOPE out the official music video right here: https://www.youtube.com/watch?v=yG0jWvxIgV4&feature=youtu.be.  Track four, "How It's Gonna Be", brings to mind a bit of a Nirvana influence on guitar which was refreshing to hear.  You're off and running on the song "Supercharged" but then you'll have to slow down and pace yourself on "Nowhere 2 Run" where one will pick up on a quirky, calming effect that just simply works and gets the job done.  Brace yourself for intergalactic madness on track eight, "Mars Ain't That Far", which shoots out like a rocket traveling at super-sonic speeds.  Track nine, "Bang On", is equipped with a hard-edged riff that will have you clapping emphatically to the beat.  The message here is to "Bang On" in life like you've never banged before and to never let up.  Two songs that stood out are: "Carry On" & "Walking Thru Time" due the U2 influence I picked up on.  On "Carry On", it was the guitar and drums that made me think of that very popular Irish band but then on the closing number, "Walking Thru Time", it was moreso the overall style comparing to a well-known song by U2.  On the final track, I was hearing glimpses of "Bullet The Blue Sky" coming through loud and clear.  The two songs seem to sync up perfectly where I even did an experiment and played both "Walking Thru Time" and "Bullet The Blue Sky" in unison and the results were surprising.  The similarities and synchronicities are wildly noticeable and this added a whole other dimension & perspective to the song that really intrigued me.
Jupiter In Velvet proves to be a one-of-a-kind force in the music world that eats, breathes, and bleeds extreme originality & creativity.  It is obvious that Rock is at the core of the JIV sound but make no mistake, Jupiter In Velvet is like a big, healthy bowl of mixed nuts.  Different shapes, types and textures but overall they blend together in harmonious fashion.  'In2 The Arms of Love' is a breath of fresh air because it has no rules, no boundaries, no limitations; just an endless supply of good, rock-solid tunes with plenty of edgy fun.  Jupiter In Velvet has no label and crosses genres on 'In2 The Arms of Love' giving the listener an immersive listening experience.  This is an Indie act on the rise as JIP continues to evolve and grow stronger with each waking day.  Jupiter In Velvet has landed and 'In2 The Arms of Love' is the flagship destination.
Website: www.jupiterinvelvet.com
Twitter: www.twitter.com/jupiterisvelvet
Facebook: www.facebook.com/jupiterinvelvet
Reverbnation: www.reverbnation.com/jupiterinvelvet
Youtube: https://youtu.be/yG0jWvxIgV4
Soundcloud: www.soundcloud.com/jupiterinvelvet
Tumblr: www.jupiterinvelvet.tumblr.com
iTunes: http://ow.ly/zaQb30faGuz
Instagram: www.instagram.com/jupiterinvelvet
By Jimmy Rae