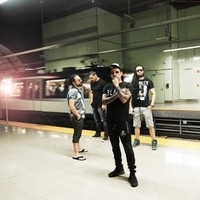 Monsieur Job's first release; "Chow Chow Eyyy Pow Pow" is a project created and led by Basswalk Latino's executive head; Jose Fernando Holguin. Written by Toby Holguin & Stan Kolev, that features Martin Cintron the singer and guitar player from the recognized nineties band; "No Mercy." Also featuring a long list including; Kiño, Luis Carlos Toro, Alejandro Gomes Caceres, Sarah Sophia, Elemece, Thiago, Christian Gimenez, Vojke Djans, Diego Caceres, Oscar Moncada, Denis Dzigal, Cholo, Vick D, Mc Lions & Bingi, Kid Corrupt, Dave Floyd, Nacho Alvarez, Pablo Bendov and Aldo Cadiz.
FACEBOOK: https://www.facebook.com/MONSIEURJOB/
That's only tipping the iceberg when it comes to describing who's involved, and their DJ network which comes together too. It's just some of the entire epic show to lay down one song that clicks on all levels for its aimed demographic and into wherever else it travels. It covers the vernacular of genres from Urban, Chill Out and Electronic Music, to Reggaetón Electrónico, Dancehall, Reggae, Dub, Tropical House, Rock, Chill Out, Rap, Trap, Hip Hop, Worship, and Son Montuno, involving Afro Cuban and African Succu rhythms. Talk about a lot going on in just one single, but it makes up for any language issue, being all Spanish.
The beat is the answer to all in the dancehalls of the world, so it's compelling for the purpose it serves and there is no second guessing that much about it. Even with English language a song can sometimes either have no particular-meaning, or a double-entendre that makes it no use trying to nail.
This is a cerebral song and that's something instantly proven from the first word. Those who'll understand it, will not be bothered by that and it all comes out in the wash, so to speak. It's a win win for Monsieur Job, as they can do no wrong by anyone as they make you dance with everyone delivering a jubilant helping hand.
It's hard to believe this much can be packed into less than four minutes, but they work it all out and you want to put it on replay for days. It's that satisfying to say the least. But I admit I did have-to hear it several times before I could get past the lingo and let the music take over and keep me interested, but once that was out of the way I could grasp my own meaning and appreciate the song. That's not easy for everyone to do but if that is required it will work with flying colors and you'll love this track, make no mistake about it. You'll get everything about it from start to finish.
The production is so clean it sounds awesome on small or large devices, heard on headphones or loud speakers. It's a cutting-edge sound and that's important for quality because this also rocks, it's not just a DJ rap and dance number. It packs a punch once it gets going and starts to pulsate, so it earns high marks in just about every department as they managed to cover it all on this debut together.
They have earned a fat stripe already by lacing so much together into one soaring first single. The sky's the limit and they are have already reached it, so it will be interesting to see what they stay up there with. Once you hear this you'll want to keep an ear out for more from them.
Todd Bauer