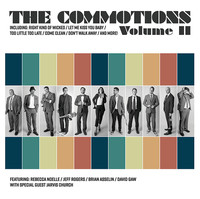 The Commotions, given the choice between going big or staying home, choose to go big. The Ottawa based band features an extended eleven member lineup along with two lead singers, a trio of songwriters, and a five piece horn section anchored by trombone as well as baritone and tenor sax. Their influences inform the music in such a way that everything from Motown R&B to Stax blues finds its way onto their recordings and their album Volume II also features a bevy of guest stars who help flesh out their creative vision. These aren't just superb musical compositions, however – there are meaningful lyrics for these songs that reach far beyond the simple formulas of their iconic predecessors and, instead, bring a distinct singer/songwriter sensibility to bear on their compositions. The Commotions certainly have ambition to burn and the artistry that goes into making Volume II a reality backs up their high aim with fundamentals and blazing talent.
There's a definite Motown vibe propelling the opener "Good Enough" and the brightly lit bounce pushing the song forward is fully fleshed out and further enlivened by a bring the house down Rebecca Noelle vocal. The horn section is fully incorporated with the arrangement and never threatens to dominate the band's sound. David Gaw's guitar exerts a much stronger presence in the mix on another Noelle sang track "Bad Girl", but the band mixes up the approach to include a healthy dose of their horn attack. Drummer Jeff Asselin is critical to making this song work with his steady timekeeping and the energetic pulse he provides. There are strong doo wop vocal influences audible on the song "Masquerade" and it gives Jeff Rogers his first chance to shine as the band's vocalist. He doesn't disappoint and the gives a relaxed performance. The musical highlight of the piece comes with a very memorable sax solo. The album's best chorus comes with the track "Let Me Kiss You, Baby" and Noelle returns to the mic for yet another in a string of musically strong and immensely soulful vocals.
The album's vibrant energy continues with the funkafied "Right Kind of Wicked" and Rogers puts down a much more animated, playful vocal here than we heard in the aforementioned performance. The songwriting with this song is eminently clever and benefits from a satisfyingly predictable structure that, nonetheless, comes across with its own personality rather than a by the number R&B/funk hybrid. There's a stronger blues influence coming across with the song "Don't Walk Away" than we've heard with the earlier performances and, despite its mid-tempo pace, it certainly slows things down more than its predecessors and focuses more on nuance over energy. The upbeat mood of the album never really lightens up and reaches another high point with the Noelle sang "Take a Chance" while the finale, "Come Clean", is an inventive final reminder that funk and blues alike are never far from the surface of this band's music. The Commotions have recorded one of the most memorable albums released in 2017 regardless of genre and have done a lot to put Canada on the map as a breeding ground for great R&B and soul acts.
I-TUNES: https://itunes.apple.com/ca/album/volume-ii/id1282594243
Jason Hillenburg