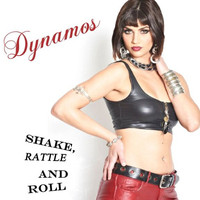 The new single from California based five piece "Shake, Rattle, & Roll" is a surging, raucous guitar driven rocker that presses itself close to the listener from the start and doesn't let them breathe. Four of the band's five members hail from the Los Angeles area and each of the players involved earned top notch musical degrees. The latter fact, however, doesn't mean that Dynamos are some bloodless, studied musical experiment. This is a band completely wired in to what makes for memorable rock and their music has a freshness surrounding it that few other modern rock acts of their generation share. It's honest, moreover, and sincere – there isn't a hint of calculation or pandering in what they do. They are vocally led by the immense talents of Nadia Elmistikawy and her ability to bring a modulated, varied delivery to lyrical material mining familiar territory makes all the difference in the world for making this feel vital and new.
Nick Schaadt's well-timed, fluid bass line snaking through the song is one of its strongest elements and sets an early tone for listeners. This is a band who understands the value of a big buildup and "Shake, Rattle and Roll" is constructed in such a way that it steadily mounts pressure on listeners until blowing off the energy with a satisfying chorus and a handful of smaller crescendos scattered throughout the song. The lead guitar work from Jacob Mayeda and second guitarist Carlos Barrera packs quite a wallop and keeps a strong musicality going throughout that engages the audience and has a vital spirit that never flags. The song title obviously harkens back to a bygone golden age in rock music history and, in their own way, The Dynamos capture the modern approximation of that vibe as naturally as they breathe. It comes across with conviction and confidence.
Nadia Elmistikawy's singing is the lights out highlight of the song. She delves deep into this track, peeling back its layers with zest and obvious attention to the lyrical content, bringing it all together in a performance that gets across the song's intensely physical mood. It's passionate and fun. She's a vocal powerhouse more than capable of exploring the full range of emotions present in any song or conjured by any backing; admittedly, this song only deals with a certain aspect of life, but she inhabits it completely and with a commanding presence. "Shake, Rattle, and Roll" comes across as rock and roll the way it is supposed to be played – with grab you by the throat physicality and skill fired by pure inspiration. Dynamos are, indeed, just that – dynamic. Songs like this are virtually assured to put them on the map and make them a must hear experience for any music fan. Get in on the ground floor with this because this is a band clearly marked with the talent to ascend to the high reaches of pop and rock stardom.
AMAZON: https://www.amazon.com/dp/B0764F55KK
Jason Hillenburg