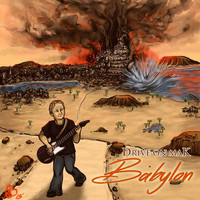 Drive On Mak opts for a classic cool on the laid-back atmospherics of the "Babylon EP". Featuring loose and limber grooves the tracks have a freeform quality to them while they explore mellowed mood. A reflective spirit defines the entirety of the collection, shown both in the thoughtful lyricism and the glistening arrangements. Hard to precisely pin down, Drive On Mak draws from a wide variety of styles from the blues to the singer-songwriter tradition all with a distinctly western twang to it. Guitar work allows for a great hazy kaleidoscopic swirl, as the pieces possesses a gritty vibe to them. Reminiscent of the equally spaced out scope of early Meat Puppets, Drive On Mak swing forth with a dazed and confused temperament.
Nicely introducing everything "Babylon" truly sets the tone for what follows. After a few false starts they allow the mood to unfold with such ease. Harmonica features prominently on the lumbering languid rhythm of "Comin' For You" with just the right amount of detail. On "Kiss Thy Hand" Drive On Mak create an infectious riff, with a memorable melody that emerges out of the fuzzed-out approach. High energy flows out of the rollicking good time of the aptly named "Outlaw". Easily the highlight comes with the oddly tender and appropriately dark "When I'm Gone". Discordant and playful "Bonus Track" closes the collection out.
"Babylon EP" shows off the undeniable chops of Drive On Mak, as they play with genres with the utmost of grace.
By Eva Grace