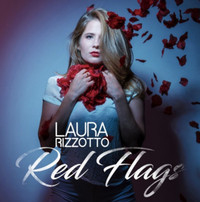 Laura Rizzotto sculpts a perfect pop track full of passion on the giddy "Red Flags". Exploring the importance of reading the signs before beginning a relationship Laura Rizzotto opts for an energetic approach one that emphasizes the giddiness of the early stages of getting to know another person. Stylistically Laura Rizzotto anchors everything with a poppy sensibility while drawing from dance, electro, and a little bit of dubstep added into the mix. Lyrically the song shines light upon the darkness that can come with trying to learn about a person for the first time. Over the course of the track a journey takes shape, one that emphasizes what it means to truly discover a connection with another person.
Delicate pings and plucks introduce the glorious sound. Rather fragile the song unfolds in quite a naturalistic way. Gradually the bass starts to skitter about, flirting with the rest of the mix. By the time the beat truly drops the track becomes quite majestic. The starting and stopping on a dime further represents the fleetingness of a relationship, of a crush and of something more than that. Choosing this approach allows the piece to become compelling as Laura Rizzotto lets the story become front and center stage of everything. For the final stretch her voice takes on a tender tenor, as her vocals convey a true form of longing.
https://www.facebook.com/laurarizzottofans/
With "Red Flags" Laura Rizzotto crafts a compelling world, one full of love and beauty.
By Connor Makafey