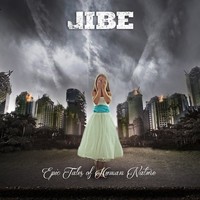 Sometimes a band hits a home run when making an album, managing to create an experience that speaks to the listener and kills with each track. That's exactly what Dallas-based rock band JIBE has done with their latest album, Epic Tales Of Human Nature, which is coming out on October 6th. JIBE first formed in 1994 and after an extended time of being apart, they reformed in 2015 and they truly are better than ever, as you can tell from this album. The band is made up of Joe Grah (vocals), Toby Bittenbender (guitar), Ben Jeffries (drums), and Corey Tatro (bass).
I can't break this review down by choosing my favorite songs simply because I love each track too much to choose. Each one is unique and exceptional in it's own way, with dynamic music that never gets repetitive and evokes an array of emotions that left me fully immersed in the album and this rich inner world that it provided the soundtrack for.
Epic Tales Of Human Nature feels larger than me in an abstract way, without making me feel insignificant as well. Maybe it's the sheer power and the enigmatic strength that each member puts forth into each track, which is especially notable in "Children Of The Sun" and "The Human Condition". The lyrics are just as strong as the music and the vocals, thoughtful and leaving you with the words in your mind. My favorite track lyrics are simple but they impacted me in a visceral way. The song they're from is "We've Only Just Begun," which is one of the most dynamic songs on the album. It's a beautiful track.
Grah's voice alone had me sold right away. It is powerful and crisp, with a strength that blew me away in each song. His voice takes you away on this journey they created and it's almost a comfort- though the tremulous emotions, his voice is steady and, of course, present. Bittenbender is a master of the guitar, the different melodies in each track showcasing another aspect of his talent. Jeffries and Tatro left me astounded- every part of this group is so well meshed. They didn't just provide the base for the guitar and vocals to build up, they're just as noticeable and amazing. I am still in shock over how perfect they are together, and how exceptional the album is as a whole.
I sincerely hope that with this masterpiece – and it is, I don't use that word lightly – JIBE's incredible return to the music scene will be taken notice of. If any band deserves the recognition on an international level, it's JIBE. Epic Tales Of Human Nature is an album that I recommend everyone to listen to, as I believe it wouldn't be fair to miss out on such a perfect album. JIBE has a new fan after today and I can't wait to follow them as they excel expectations of what a reunited band can do. You'll thank yourself for picking up the album when it drops this Friday.
By Tony Jameson