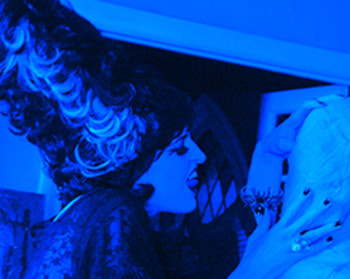 "Mummy Dance" is just the blood sucking anthem we've been waiting for on the eve of the darkest day of the year. CHARACULA spends the video in her lush castle, gormandizing tarantulas and sucking the soul from a mummified body, fueling her demonic desires. A band of angelic pharoh-esque dancers bring the "Mummy Dance" to full fruition, enticing the viewer to repeat every step of the dance with hypnotic instinct. Watch out Bobby Pickett…there's a new spooky crypt-keeper in town!
CHARACULA is a superstar picked from the black skies of the underworld with glamorous style and a lip-biting thrash-rock sound that will pump the blood through your veins at maximum velocity… Just the way she likes it! Her stunning video "Mummy Dance" is the visual new anthem for Halloween from now until perpetuity and delivers a glimpse into the mind and soul of CHARACULA, an eerie place where horror and science-fiction share a lustful dance. She is impossible not to root for and has delivered an October annuity that walks like an Egyptian and mashes like a monster!
If her larger than life personality, "easy on the eyes" visual aesthetic and avant-garde imagery isn't enough to capture the black hearts and twisted minds of her audience, CHARACULA's sound is unlike any other in the living realm. Wielding the flag for the undead, the artist's sound is best described in her own words as "a blend of metal, dance and the old drive-in movie theater", an unorthodox combination that immediately paints a mental picture of the dark spells cast in CHARACULA's music.