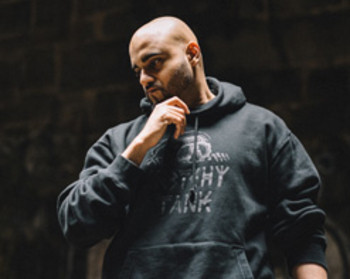 There are few forces in popular music quite as formidable as a great producer on a mission. Just as a good film director inevitably leaves his stamp on the films he makes, a skillful producer at the helm of a musical project guarantees consistency, vision, and a distinct aural signature that can't be counterfeited. Ashok Kailath – who records as ash.ØK – is a producer like that. The Unraveled, his debut album, is an amalgam of styles and moods, incorporating elements from dance music, world music, progressive rock, modern pop, and leftfield experimental sounds. Yet no matter what direction he travels or how far out he goes, the music he makes is always identifiably his. You'll know an ash.ØK song the moment you press play – no matter which of his talented collaborators he's called on for any given track.
Yes, the Pennsylvanian producer has friends, and he knows how to match them with music that lets them shine. More than two dozen artists contribute to The Unraveled, including Grammy-winning cellist Tina Guo, virtuoso Indian percussionist Jomy George, and the raucous, pan-ethnic West Philadelphia Orchestra. The title track from The Unraveled features a spellbinding turn by singer-songwriter Rebecca Loebe, who won national recognition as a contestant on The Voice. On "The Unraveled," Loebe, her voice perpetually on the edge of breaking, conveys ash.ØK's moving story of frayed relationships with genuine empathy. The producer decorates the track with twinkling synthesizer, ominous guitar, and layers of gossamer backing vocals, all of which provide a bed for Loebe's searing performance.
A song like "The Unraveled" required a dramatic video, and ash.ØK has delivered with a clip that has the depth and emotional sweep of a short film. To make it, he enlisted the help of ambitious young filmmaker Patrick Mason, who has applied his own dark vision to beautifully-shot independent music videos and documentaries. Mason is a specialist in Appalachian beauty and desolation, and for the "Unraveled" video, he's aimed his camera at the same sort of gorgeous but faded West Virginia town that frequently appears in his work. The story follows a young married couple in trouble — both husband and wife trapped, separately, in their problems. Unpaid bills, unfulfilled expectations, the demands of parenthood – it all weighs on them, and, increasingly, they entertain desperate solutions. Although this clip has a happy ending, the message is clear: we need to depend on each other.