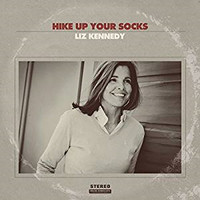 The latest release from singer/songwriter Liz Kennedy, a twelve song collection entitled Hike Up Your Socks, further cements her artistic achievements in modern American music despite largely flying under the mainstream radar. She's attracted significant crowds at several venues across her hometown of San Francisco, released critically acclaimed albums, and earned comparisons with iconic performers like Bonnie Raitt. The legendary Taj Mahal, memorably guests on Hike Up Your Socks, but make no mistake – this isn't a release about gimmicks or reflected glory. Liz Kennedy's talent is substantial enough to share sonic space with performers like Mahal and her facility as a songwriter gives her and any potential collaborator rich material to work with. Hike Up Your Socks is a memorable listening experience from first song to last.
AMAZON: https://www.amazon.com/dp/B07472MCH9
"Everyone Knows How It Goes" mixes forms like the piano ballad and blues together as if they are meant to be sonic partners. Taj Mahal makes his presence felt throughout the piece thanks to his weathered vocals and banjo contributions, but it is his singing that sticks in listener's minds after the song has finished. His voice isn't a seamless fit with Kennedy's more declamatory style, but they complement each other as opposites thanks to the juxtaposition of their very different instruments. Piano begins the album's second song "Attention", but the bluesy effect here is much more atmospheric and nuanced than we experienced in the opener. Kennedy keeps things spartan and uncluttered and benefits from some backing vocals to further sweeten her smoky tone. The lyrical content is quite exceptional as well with some eye-popping and perfectly sensible rhymes along the way. "Say the Words" abandons the blues in favor of a more constructed pop sound. The elegant acoustic guitar vamps and spiraling piano lines come together nicely and elicit a sensitive, deeply emotive performance from Kennedy.
Taj Mahal returns on "Love Gave Me Away", but he's limited to just playing harmonica on this track. The review says "limited" but in certain respects he contributes immeasurably to the relaxed confidence coming off this performance. There's an immense likability in Kennedy's work even when her focus turns to melancholy subjects and there's something inherently life-affirming about her lyrics and musical arrangements alike. The title song "Hike Up Your Socks" swings nicely from the outset and has some colorful acoustic guitar fills laced throughout. Kennedy gives an artfully understated vocal performance. Kennedy dispenses with the piano taking such a dominant role in the songwriting on "The Signs" and relies more on the acoustic guitar and backing vocals to invoke a mood. It's a meditative tune full of significant detail. "High Time" veers closer to an AOR rock edge with some hard hitting drums, but Kennedy continues to keep things uncluttered and the discernment that goes into making this track work is considerable. Hike Up Your Socks is an honest, unfettered work of musical art that never over reaches but, nonetheless, does an excellent job of creating a work that speaks across the years and is accessible to anyone who gives it a chance.
William Elgin