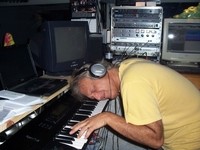 Mark Meisel is a veteran musician and producer. He has toured with numerous national acts, and was a founding member and frontman for Detroit's, Opie's Dream, throughout the 1990s. These days Mark has turned his attention to creating music for children that is also suitable for their parents and grand-parents. His latest CD Pick Up Your Toys – is a collection of songs that will both entertain and challenge children. Parents will be entertained too, and the tongue in cheek lyrical style will induce lots of laughs as children and their parents relate to the stories. Using the nom de plume "Zehti," Mark and his latest album will be embraced by the entire family.
The first impression you get when it kicks off with "Clap Clap Clap" is that it's going to be something not to be taken so seriously. But once it gets going there's a turn for the better in terms of the quality of musicianship and songwriting that's really going on. You don't see it coming but it's not just a playful situation after all, and Mark Meisel actually means business. That point comes in as he goes to play the killer guitar solo, and if you're a music loving adult it comes as a sign of relief. It's not that the melodies throughout the track aren't great, but the kid's stuff part of it throws you off at first. That's all. I hope you clap.
"Chew It Up" is more of the same playful fun but the bluesy guitar fills come early and stay throughout the song. It's a ditty about getting mamas little baby to eat its food. Good blues music with an educational twist is what it's all about. "The Walk Around" goes on proving it with its more humorous approach. It's another good little tune though. And there is no sugar coating on the lyrics just because it's moderately educational. "Dream" is an acoustic laden number with some exquisite playing and excellent lyrics. This is a sublime treat that plays like a lullaby to be taken seriously.
The next treat in the trail mix is "At The Zoo" which might be an obvious pit stop, but it doesn't disgrace in the process. It's so well done you have-to love it. The kazoo solo is excellent, but the lyrics are where it stays a little on the safe side. I can appreciate a kazoo solo anywhere I hear it though. "If You Hurry You Can Make It" is a hilarious way of saying you have-to the bathroom. This one contains a child's voice in it to make it interesting. The guitar solo in this one also burns with some sizzling hot licks. You'll laugh and enjoy a great little tune at the same time. That's one thing for sure.
And check out "Ice Cream Superman" for a way to make ice cream an even better idea. The backing track for this is another excellent piece of music, so this is another track that gets a thumbs-up for all it's worth. But there's more, "Medicine" carries on nicely about the obvious. But the vocals take a good front seat on this one. It just rocks the hardest of them all. It's worth waiting for to hear how it all plays out, and that's why it comes recommended. But it's not everyone's cup of tea just because it's an all ages themed album. But the humor can't be denied either, as the whistling of "Hanging Our With Paw Paw" takes it out.
I-TUNES: https://itunes.apple.com/us/artist/mark-meisel/id4106209
Larry Toering