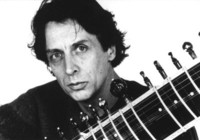 German-born but with a universal sound, Al Gromer Khan started his career as a sitar player and composer over four decades ago. Today he sits proudly on over 50 recordings, a handful of books, and his latest best-selling album release 2016's Chakra Noir and the 2017 single release "After the Crash." Chakra Noir is the latest representative work in his ambient meets new age repertoire. It joins a myriad of sound that Al Gromer Khan has created over the years from 1974's Hesse Between Music to last year's Chakra Noir. It is safe to say he has achieved all of that and then some.
URL: http://www.algromerkhan.com/
Easing into the first track "A Simple World With Flowers" on Chakra Noir – is like sliding into a nice hot spa, right down to the hairs standing up on your back. And that is nothing but proven once the few sitar notes end the fantastic opener. To rate it based on even being new to him, that's just a tip of the iceberg. His sitar playing is extremely satisfying and sublime. But there's only so much of it to hint upon in the first track. He lets you know at the end that it's coming though, and the rest does the business to heal on its own. This is a mesmerizing opener with everything going for it.
The power of the sitar continues by coming on very strong with "Degrees Of Tenderness" showing his chops in the forefront, and it's almost like hearing Ravi Shankar and George Harrison together, that is if you're not familiar with the instrument beyond such players. It makes you stop and listen to the beauty of it all. There's an overall familiarity to it for anyone over 40, even if you don't listen to it on a regular basis. I'd certainly want to hear more if I didn't already appreciate the sitar. It's an awesome number to say the least. It comes with bird calls and a ring of the forest. Most soothing.
The title track "Chakra Noir" is wildly different than anything that comes before it. This is where New Age can win or lose you over if it's not your normal go-to. But for those who know what's going on here I am sure it's right up your alley. The female vocals are ritualistic and it's like a therapy session once it's all over. I like the wind chimes and I was glad I heard it. There are some claps that return in "Tan 7 Maroon" and I like the effect it has throughout. And this is another captivating track with some over the top sitar fills. It's almost addicting once you've heard it a few times.
"The Train & The Crow" continues in the same vein and you're either bored or you're loving the sensations by now. There's not much to say about terms of giving any music lessons that will make you buy this album, as lovers of the genre already know what they're looking for and that's usually who's reading. This can also introduce anyone in a great way, a veteran artist or not. It's a world class album and here is no question about that, it's just a cut above many standards. "Kings Companion" dabbles in some string work and the album closes out with "Into The Blue" ending as good as it all starts.
I-TUNES: https://itunes.apple.com/us/artist/al-gromer-khan/id64387703
Larry Toering