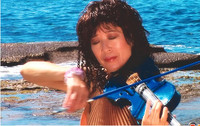 With over two dozen albums to her name, Manjia Luo has continued to prove why she is a force within the New Age community with her latest, Wish Pond featuring her lead single "Joy Fluctuation of Wave." Eight tracks deep, Wish Pond plays along with her previous releases nicely. Fitting into the consistency of what has made Luo a prominent mainstay in Australia over the years. New Age with hints of jazz, Asian melody, and an instrumental flare is what Luo is best at and known for. Her compositions are overflowing with passion, played on piano and violin.
URL: http://www.manjiamusic.com.au/index.html
The CD kicks off with the title track "Autumn Spectacle" and it's everything like the piano and violin pieces she usually does. It's a pretty-little gem and that's for sure. I'm not well versed in New Age but I often find the charts to be riddled with music that doesn't even classify as such. So, I'm often confused -with music which gets classified as New Age. This seems to fit the bill like a hand in a velvet glove but also sounds like classical. It suits the genre to my understanding anyway, and shows she really knows what she's playing. Especially with such a back catalog even though I've never heard her. This isn't so challenging when the music is of such fine quality that it tends to speak for itself. That's when it writes its own review. On "Water & Life No. 2 (Violin)" there is also piano to back it but the violin playing is otherworldly. It makes you want to have it around for times of need which call for such magical vibrations. If you're a music lover this can't put you to sleep, if you're not, anything probably can. It's just an awesome piece of music. It's followed-up by a spacey track of pure New Age variety in that it has more modern sounds swirling around her excellent piano playing.
"Angeni's Love" follows suit, and it too is an extraordinary listening experience. This is a lovely piano track with medicinal qualities to spare and then some. Once again, the classical takes a bow, as does modern jazz and anything improv based. It doesn't get more classic and contemporary at the same time. This goes into an even more delicately pure piano arrangement entitled; "Tom & Jerry Rocked The 13th Floor" and while you have-to wonder about the humor of the title, you also have-to wonder what it has-to do with the number. It's worth checking into, but either way it is another fine score. You can either pick up on influences like Chopin or dismiss them in the contemporary sense of it all, but then you also have-to know where that comes from to identify with it. Let's just say her piano playing is second to none. "Wish Pond" is a delightful little piece of excellence that shows off her lightly painted piano skills, textured by a xylophone to give it that wish pond atmosphere. This is most beautiful and must be heard to be fully appreciated. It can't be topped but that doesn't mean there aren't higher moments on offer. It just makes me glad to know she's been around and there's a lot more to delve into.
https://www.youtube.com/user/manjia
Larry Toering