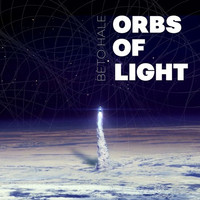 Beto Hale is a one man project that does it all. Literally upon this album, 90% of it was done by Beto alone. Beto went as far as wrote, performed, and co-produced the album, as well as provided the instruments including drums, percussion, bass, electric and acoustic guitars, mandolin, keyboards, piano, and sang lead and backing vocals on it. On top of all of that, it was recorded at the Los Olivos Recording Studios, a state of the art facility in Los Angeles, California, one of the new 2000-sq feet outlets for the music creativity to really flow.
That said, the songs upon the album that is "Orbs Of Light", is a collect of 10-tracks, all of which range in an influential way that goes from progressive rock, to pop, down to post punk. Lyrical context having a positive message, that is meant to counter the current negativity pervading the news circuits. This album being such a buzz cutter that it was submitted for Grammy consideration for Best Alternative Album, Best Rock Performance for "The Only One" and Best Rock Song "Far Away". So then, how do these two Grammy submits hold up, as in are they worthy of the Grammy glory well they do. Not sure if they will go as far as win a Grammy at the least, but the most get noticed nevertheless.
As "Far Away", is at the beginning portion of the album "Orbs Of Light", really showcasing what this album can do. While "The Only One", follows suit, right after, being more in the middle of the album, than the beginning of it. Either way though, both of these tracks, play off one another. As one "Far Away", is very catching and upbeat. It maintains the progressive rock tone of beat, while "The Only One", leans towards the post punk pop formula. Being very mellow, down to earth, touchy feely energy. It is one you can just kick back and enjoy, listening in on pretty much. Both tracks giving off this type of feeling really.
The rest of the album just plays off everything else off it. Like such tracks as "Closer To You", "She'll Be Back", "Holding Hands", "Come with Me", and "Share Your Joy", go so well together as a whole. Each of them really giving off a very passionate yet upbeat tenderness. The tones playing off the melodies and harmonies that the music becomes very progressive, as if the music is being pushed into a fast paced force of aggression. It is just the round of tracks, that becomes a well rounded source of material. It is focused, drive, and listenable. That any of these tracks of any off the album can become one you can hear again and again, not being bored with its material.
That is really how Beto Hale works. He creates the music that does not become such to be bored with but enjoyed with. He has a unique voice, with great musical instrumentation, that makes it all work well for him. Surely this album "Orbs Of Light", does such a thing, that it becomes one of those releases, you can partake in listening to, because it is just so much fun to hear.
https://www.facebook.com/beto.hale/
By: Natalie Perez