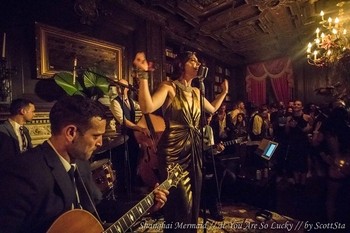 Sweet Megg & The Wayfarers has a sound that is truly their own. It is vibrant, modern, and eclectic, honoring the great musical greats of the past, into the present day. Since releasing their debut single "Here Comes the Man with The Jive", off their self-titled album, a lot of buzz has been said about the single as well as the album. Since debuting in 2012, they have current a main stay in the NYC area, holding such residencies at The Standard Hotel, House of Yes, The Wayland, St. Mazie's, and The Belfry. In fact, the band goes into detail about this album, the single, and future ahead.
NP: So what can you tell me about this new album?
Well it is our first full length album and also the most professional. We were able to get some funding for it so we could record in a beautiful studio and also hire all our favorite musicians to be a part of the recording. It's got a range of material and a range of musicians on it. There is some more modern influenced concept with the vocalese and also some good old fashioned swing, but always with the Sweet Megg & the Wayfarers twist!
NP: Why go the direction of titling this album after yourselves? What does that represent for you guys, any symbolism?
Since this is our first real album we wanted it to represent us as best as it could. Originally we had toyed around with the idea of doing a theme, songs about the mood, Billie Holiday tunes etc. Then we realized that wouldn't be us because what we are and always will be is a mixed bag of styles. Ryan (the other band leader) and I love playing a range of material so we choose songs to reflect that. There are some tunes with a gypsy jazz influence, others of the Billie Holiday/Teddy Wilson influence, viper jazz tunes (jazz tunes about Marijuana), and some vocalese. We wanted to show as many sides of the group as we could. Then when it came time to naming it we kept bouncing around album titles until we finally realized, duh this album is Sweet Megg & the Wayfarers. It's our intro album!
NP: Who was the artist behind the album's artwork?
That was Olivier Bonhomme. He's definitely a bon homme. We met him in Montpelier France. We were jamming with some local guitar players at in the cave of a pizza joint and he came over with his alto. We all jammed together and ended up having a great night together. The next time we were in Montpelier we bumped into him again and spent a few days hanging with him. We slowly got to know more about his work as we got to know him and fell in love with it. All of his illustrations are beautiful and I'm glad we were able to work with him.
NP: What was it like being in the studio getting to work upon this album, that will be your first one ever? What thoughts run through your mind?
Well it was actually very relaxing. I've done a good amount of recording sessions but always in a crunch. Trying to rush to not waste time or working with subpar equipment. This time we had a bunch of very professional musicians, with a professional engineer who was amazing at his job, in a killer studio. It went pretty smooth. My biggest concern personally was to not be in my head. I wanted this record to sound like our live performances do. We are thoroughly a live band and I am thoroughly a live singer. There is a certain something that performing to a large crowd does to my singing, it makes me more daring and sound stronger. I wanted to try to relax and just do me as much as I could and forget that it was going to be recorded.
NP: Who was the one to produce the album?
Michael Cisnernos- Perez. Awesome dude. He was such an amazing guy to work with. We recorded the entire thing live and everyone was for the most part isolated. When we came in at the end of the recording day and listen to the playbacks they already sounded great. It barely needed any mixing. When the mixing process did come down to it he was a wizard. Plus he was an all around nice guy to be around which makes the recording process so much easier. He really helped keep everyone's spirits up so we could get the best out of everyone.
NP: Where did you record this album and what was the experience like during?
Well I guess I sort of explained that above. It was at Big Orange Sheep though.
NP: Did the band have any definitive goals they were shooting for before the recording process began for this album?
Not really just make a good album. We wanted it to sound good and like us. I know we didn't want it to sound like an "old-time" band. Sometimes folks will put that fake record player quality over it and I just don't believe in that kind of editing. We wanted it to sound real and live and didn't want it to sound like a recreation of something from the past. We'd prefer to sound like a new version of stuff influenced thoroughly by the past!
NP: Are you using any new instrumentation you've never used in the recording process before?
Our band is a constant rotation of numerous musicians. Depending on the gig we have many different formulas. This album we basically tried to have as many variations as we could so there is a lot of different instrumentation but it's all formulas we've used on gigs.
NP: When did you start writing for this album?
We'll there wasn't much writing involved. Most of these tunes are jazz standards so they are written by others and jazz is a very improvisational art form so most of the solos on the record were improvised. We did arrange the tunes ahead of time. We basically created road maps for all of us to go by, for example a planned intro into me singing the chorus once, then a clarinet solo over a Charleston feel, then trumpet and trombone trade choruses, and so on and so forth. That way it was somewhat planned out but also left things open ended so we could get that improvised live feeling.
NP: Did you feel any pressure whatsoever?
Not really. We were the ones who decided to create an album so the only pressure was from ourselves. If we were working with a label that would be a very different thing. There was pressure and always is pressure to create good quality music and that's just being a musician, but that's a constant whether it's creating an album or playing a bar gig. So I guess the answer is yes but no added pressure just the constant pressure to be good at what I do!
NP: Can you go into detail about why you wanted "Here Comes the Man with The Jive", as the debut single for this album?
Well it's one of our favorite songs to perform. When we heard the original by Stuff Smith we knew it was perfect for the band. As soon as we started performing it, it became our closer. When we were recording we wanted to capture the feel we get live. We wanted the recording to feel like a party, have a slow start and really go crazy by the end. We did several takes and the main direction I gave the band was "go crazy". After listening to the mix I was so excited. It felt live and fun and crazy! Ryan and I were sure it had to be the single cause it feels so us!
NP: Why should people go forth and check out this album?
Because it's something new. I know that is a bizarre statement from someone who focuses on jazz from the 1920s and 1930s but it's true. We love the old stuff so much that we want to revive it and give it new life. I've noticed that people react to this music, it makes them turn around. There is something still in it that is relevant and exciting. My goal is to draw out those elements of this older music and then add our own modern influence to it. A lot of people believe in recreating this music exactly as it was. I don't believe in that. So much has happened musically since 1930 and I believe in acknowledging all that has happened and overlaying that influence onto this wonderful music from the golden era of jazz! Our music is a dance between old and new.
NP: When can we expect the new album to be released?
Tomorrow! September 14th it will be on iTunes, Spotify and whatever other streaming services folks use these days. We are having a big party in Brooklyn for it.
NP: What can the fans expect to see from you in the future?
More albums. I just starting writing original stuff for this group. I normally write folk music but I've been trying to write songs that will fit the style of Sweet Megg. I'm trying to write a completely original album by the end of this year so hopefully that will be out soon!
NP: Is that your final answer?
Absolutely.
https://www.facebook.com/SweetMeggTheWayfarers
By: Natalie Perez