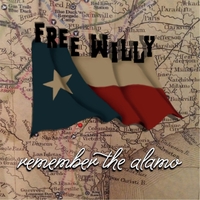 Free Willy embraces the best of folk and Americana on the impassioned "Remember the Alamo". Over the course of the album Free Willy prove to be exceptional storytellers, as they sing songs of love, spirituality, and dealing with the daily grind. The sound shines with impressive fiddle work, expressive harmonica, and the gorgeous vocals that adorn the entirety of the album. By embracing such a wide, rich instrumental approach the songs linger in the mind with infinitely catchy melodies and thoughtful lyricism. Rhythms have a jubilant, giddy quality to them for the most part, as they give the album a great feeling of excitement.
Nimble guitar work introduces the opener "Amazing Gracie". Featuring spry percussion, the song rushes through in a glorious blur. Things slow down considerably on the reflective, sunny spirit of "Get in the Car". Rather ornate with tender lyricism, the song possesses a soothing comforting presence, one further emphasized by the laid-back mellow groove. Quite active with many moving layers "As a Man Thinketh" has an interesting observational quality to it. Easily the highlight of the album and its true heart rests with "Another Day Another Dollar", where the journey of the everyman is explored with great care. Bursting with pure joy "Sugar Baby" creates an entire feeling without needing to say a single word. Neatly bringing the album to a close is the heartfelt "Medley: The Star-Spangled Banner/America the Beautiful".
https://www.facebook.com/freewillyband/
"Remember the Alamo" shows off the undeniable chops of Free Willy in the celebration of freedom, of the everyday happiness that so often goes unappreciated.
Further information on the story behind each song can be found here:
http://www.airplaydirect.com/music/freewillyrememberthealamo/
By – beachsloth.com