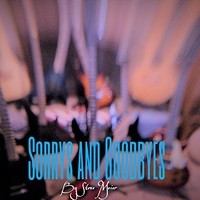 With a sound that sounds like a country boy who learned to rock it on the guitar, Steve Meier comes through with a unique sound every time an album is dropped. Whether it be 2016's Meier or this April's Sorrys and Goodbyes. He's firing on all cylinders. Taking control of everything on Sorrys and Goodbyes, Steve handled the bass, guitars and the vocals but did have a little help from fellow musician and friend Jerrod Brunemeier who played on the title track as well as "Don't Look Back." Sorrys and Goodbyes is a gritty rock record with country elements hidden in the basement of each track. After his first EP which features tracks like "Fly Away and "Crazy" among others, Sorrys and Goodbyes kicks into gear on a high note with "Walkin' With A Woman" by rocking along nicely enough to find him on his rock side of the country. His low register vocals give it a class all its own as well. It's a solid tune that gets the show on the road with some slinky guitars and plenty of cowbell. The song is groovy with a lot of bottom-end to it. But that's nothing new between his two releases. It's worth pointing out because it's a hallmark to his credit. You'll know what that means after just one listen.
URL: https://www.stevemeiermusic.com/music
"You Don't Know" keeps the fun at an even keel with more of the same fun-loving stuff, but this one touches closer to country, which is obviously just another flavor to his music and nothing hardcore about the aspect of. You can get another side to him here, without it getting too far away from the former track. The consistency of the musicianship is unquestionably a fact which can't be denied, and that allows you to listen with comfort of knowing you're going to be satisfied. It puts you in the right mood to go for it and this EP is one that will get mileage out of wherever the wind blows it. "Don't Look Back (ft. Jerrod Brunemeier)" has the potential to be the leading track, simply because it rocks the most and it also turns out to be the most well-structured song. A track that is perfectly cut out for radio, so it deserves all the exposure it can get. It comes recommended but so does wide circulation of it, and that's where I hope artists are reading, because there is insight out there and it's important to get the music to the world as far and wide where music is heard. There is no other point in releasing it. But I'm not here about boring facts, so I'll just give the opinion about what a quality release deserves.
The set closes with the title cut "Sorrys and Goodbyes" with the lowest registering vocals on the album, which is a good thing I'm glad to say, and it's back by some incendiary guitar. It's the most interesting track of them all, so it gets my favorite pick award. You can listen at his website where you can also download a free bonus track. The best advice I can give is to make sure to make the next release a full-length album, because it simply begs to be heard after this and his debut EP's. Steve Meier is well worth the price of admission, so the more you hear the more you'll agree.
By Larry Toering