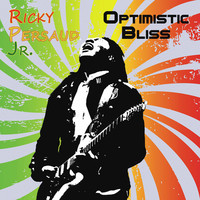 Ricky was born in Livingston, NJ and lives now in Irvington, NJ and he has had a flair for music for a very long time. He got his first instrument as a Christmas present when he was only 1-year-old. He continued to expand his musical skills from there. He went on to study music at Berklee College. This experience can be clearly seen in his album Optimistic Bliss and his Bob Marley influence really comes out. Let Me See is the first song on the album. It's rather pleasant to listen to and the music would be fun to dance to. It has fast pace and great instrumentals.
Sound of a Hit is next on the album; it is another piece that makes for good dancing music. It starts with drums and gradually more instrumentals are added. A lot is going on in this song. Like the song says, "it makes you want to get out of bed." Ooh Baby starts softer, but it soon builds up, with a guitar and a whole range of instruments follow after. This is a fast paced love song which is indicated by the lyrics and the title. Reggae Blues has a beginning that can't be explained as anything but fierce. It also has a lot of Bob Marley influence in it. Jah I Need Your Love, the song starts out with drums then trumpets are added. The trumpets in this song are very prevalent. The next song is Girl Has the Essence is another great catchy song. It's Alright is a more relaxing song than the others, with a slower pace, and a more serious tone. This is a song speaking about working hard and scrabbling to get by. He says, yes this is true, but don't let it get to you because, "it's alright."
The next song on the list is People of the World it goes along with the idea that people shouldn't be so judgmental of one another. It's a very big nod to Bob Marley. Goodbye 16 is another of the slower and more serious toned pieces in the album. It's a song about maturing, about losing innocence and the negative nature of growing up. Feel the Love another message of peace. Optimistic Bliss is one of the final songs; it has a long instrumental introduction. This is a joyful, party it up sort of song. The whole album is really summarized with this piece. The final song is Alive. It's an upbeat song about experiencing new things in life.
The album really follows Bob Marley while still maintaining Ricky's individuality. Although Ricky is young he has been learning music his whole life and this experience comes out strongly in his album and enhances his messages that he is trying to convey in each song. The music is something you can dance to and enjoy listening to. There are also a lot of relatable issues which he goes over in each piece. In all these songs make for a great addition to anyone's listening playlist.
http://www.rickypersaudjr1.com/
By Tom Hayden