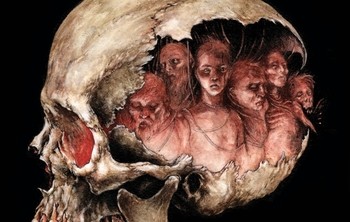 Vinyl spoken arts label Cadabra Records presents an audio adaptation of H.P. Lovecraft's vintage chiller, The Picture In The House, read by renown Lovecraftian scholar and narrator Andrew Leman, with an original score by Fabio Frizzi – the legendary film composer of The Beyond, Zombie, Kill Bill and other genre classics.
Haunting, hypnotic, and suspenseful, Frizzi's original score is both recognizable and groundbreaking. With a full musical ensemble, the composer creates a timeless and unforgettable soundscape that will be regarded for years to come, and a work beyond anything previously produced for the spoken arts.
"To have the pleasure of working with maestro Fabio Frizzi is a dream. His work on this production is not just iconic, but something of pure nightmare. Frizzi understands the power and significance of Lovecraft's fiction and has brought us a score like no other."offers Cadabra Records founder Jonathan Dennison.