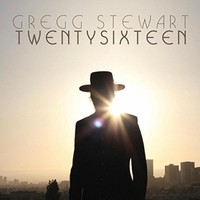 Gregg Stewart delivers a downright tender ode to the artists who passed away in 2016 with the powerful "Twenty Sixteen". Singing with great honesty, Gregg Stewart picks from a wide variety of musical styles, going from Prince to David Bowie. By choosing such wide swath, the album reveals a great deal of variation. Things are stripped down to the absolute essentials for everything neatly comes together in a quiet graceful fashion. Arrangements positively shine while they adhere to a distinctly western twang. Detail means that while vocals and guitars drive the sound forward, little flourishes like organ vamps, piano, and other keyboards give the songs a little more color.
Even without all the electronic flourishes "You Spin Me Round" continues to tap into the track's original celebratory wild spirit. Neatly playful "Raspberry Beret" embodies the happiness and the slight rebellion with Gregg Stewart's voice ringing true and capturing a lovely soulful essence. Rhythm helps "Sing A Song" power through with such grace. Quite dreamy "If I Could Only Fly" possesses a mystical quality to it. With a hint of jazz "Pure Imagination" has a warm welcoming presence to it. "That's How You Know" delves into a muscular kind of power, revealing a neat concise form of poetry. Perfectly concluding the album, the David Bowie classic "Starman" receives grand treatment.
On "Twenty Sixteen" Gregg Stewart pay attention to the importance of remembering those who changed the music world, and does it with the greatest of grace.
By Vince Beach