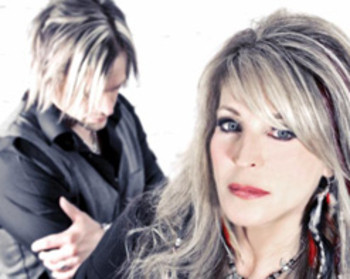 The woman, the rocker, the legend, Janet Gardner is back! After an extended hiatus, the former lead singer of seminal metal act Vixen has signed with Pavement Entertainment to release her first self-titled album in August, her first since 1998's Tangerine. Paired up with producer/songwriter/guitarist Justin James, this album will surely reveal a new style for this rock and roller. She has released a teaser of four of her new songs on YouTube, including the ferocious new "Rat Hole," and has already picked up a veritable head of steam in preparation!
http://www.facebook.com/JanetGardnerOfficial
Known for her uniquely hard hitting voice, Janet is widely recognized in the world of metal rock. Metaltalk.net describes the new sounds as "a collection of emotionally charged songs with gritty grooves, infectious hooks and inspired lyrics that merge hard rock influences from the last four decades." With Vixen's sound changing over time from Rev It Up's hair metal vibe to the more 90's style grungy Tangerine, Janet bringing her collected influences into one modern mix is as exciting as it is unexpected.
The video for "Rat Hole," the first sample song played in the teaser video, is an incredible romp of classic 80's rock and 90's style, brought to you by Cineriot Films and director Daniel Dahlstrom. Opening with a grainy film preview, the drummer posing with her drumsticks ready in the air, the song jumps in with Janet spinning into rock and roll action. With Justin on guitar, each musician is a fireball of energy in support of Janet's ultra hardcore sound. She sits on a well-deserved throne of black leather, multicolored lights illuminating a smoke filled set. This video is old school, but feels like nothing we've ever seen.