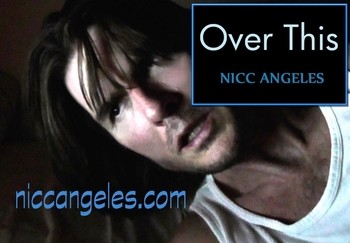 Bluebird – 'Invincible' Single
Bluebird is a female Australian Singer/Songwriter born and raised in Melbourne. She records her original music at home in her studio. With an established following on online forums such as Soundcloud, Bluebird is now focusing her music toward a wider audience through The A&R Department.
M.I.L.K. reveals visuals for 'If We Want To'
Copenhagen based artist M.I.L.K. (real name: Emil Wilk) today releases the video for 'If We Want To' – the penultimate video in a line of 6 video releases, lifted from his acclaimed debut EP 'A Memory Of A Memory Of A Postcard'. The video was co-directed by M.I.L.K. and Jonas Bang.
FRANK IERO and the PATIENCE TO RELEASE NEW EP "KEEP THE COFFINS COMING" ON SEPTEMBER 22ND
FRANK IERO and the PATIENCE are gearing up to release their new EP, "Keep The Coffins Coming," on September 22nd via BMG/Vagrant Records. Recorded with the legendary Steve Albini (Nirvana, Pixies, PJ Harvey), "Keep The Coffins Coming" is complete with four tracks that bridge the gap between Stomachaches and Parachutes, the band's acclaimed debut and sophomore albums. The EP will be available to stream/purchase at digital retailers on release day.
UK ROCKERS 'DEEPSHADE' DELIVER FREE DOWNLOAD SINGLE 'TIME'
Whilst work is firmly underway for a new EP release later in 2017, the Wigan (UK) based alchemists of psych-edged alternative rock are offering a limited time free download of their previous single 'Time'.
Lifted from their acclaimed debut album Everything Popular Is Wrong, 'Time' charges along with their raw post-grunge energy and melodicism – a musical formula that has created their upward trajectory since being unleashed upon the alternative music scene back in 2015.
TIM ATWOOD SET TO RELEASE NEW ALBUM THIS FALL
During his career, Tim Atwood has played behind some of the greatest Country Music performers of all time. But, in 2017, Atwood's star as a vocalist is shining brighter than ever as a solo artist on his own – with several shows, television appearances, and a new album project by year's end.
Atwood, who played in the staff band at the world-famous Grand Ole Opry for thirty-eight years, has developed a reputation as one of the most polished and energetic stage shows in the entertainment business, performing for audiences of all ages. Fans of his traditional style will have several opportunities to enjoy his music and story-telling abilities in the coming weeks.
Pro-Feminist Neo-Classical Composer Mihail Doman Releases Immersive New Project 'Arythmology'
Two years in the making, Mihail Doman's first full-length release is an epic realisation of his view of the human condition, as told through his music, which manages to be both minimalist and thought-provokingly complex. Arhythmology is a story of rebirth and new beginnings.
Born and raised in Romania, Mihail has created Arhythmology as a fully-immersive experience, one to be heard, ideally, as a whole entity rather than to be dipped in and out of. Segmented into nine phases, each numbered in roman numerals, in the style of one of his heroes, Jean-Michel Jarre, it shares the legendary French composer's journeys through sweeping musical landscapes – touse Mihail's own description, 'a soundtrack without a film'.
CORBIN RELEASES DEBUT ALBUM 'MOURN'
Mourn, the debut studio album by Minnesota singer, songwriter, artist Corbin (FKA Spooky Black) is officially out today via WEDIDIT / Kobalt Music Recordings. The long-awaited full-length project produced entirely by lauded electronic producer Shlohmo and D33J of WEDIDIT arrives just ahead of Corbin and Shlohmo's co-headlining tour kicking off this week at the Observatory in Santa Ana on September 7th.
Milk N Cooks "Joy District"
When they aren't making music, they are developing marketing strategies, routing tours, and reaching hundreds of thousands on their interactive live stream internet show. Their production style is home grown as well as the management team, record label, and booking agency they've developed with their friends and close associates.
Shannon Lay shares new track/video, "Coast"
Shannon Lay recently announced her new LP, Living Water which will be the inaugural release on Kevin Morby's new Mare Records imprint (you can pre-order it now).
London Grammar Reveal Official Video For "Non Believer."
London Grammar have released the video for "Non Believer," the latest track to be taken from the trio's second album Truth Is A Beautiful Thing.
UNSANE Announces New North American And European Fall Tour
NYC noise rock trio UNSANE confirms more than a month of new North American tour dates for the fall months, as well as additional European tour dates, in support of their crushing eighth LP, Sterilize, which is set for release through Southern Lord on September 29th.
Jack Beats Release New EP 'Modulate' Out Today via Night Bass
This year, UK duo Jack Beats are celebrating a decade at the forefront of a trademark hybrid sound that fuses hip-hop, house, and drum 'n' bass. Since 2007, Jack Beats have been awarded a thriving international fanbase with their forward thinking approach to production and DJing that has resulted in festival bookings at Coachella, Glastonbury, EDC Las Vegas, Sonar, Fuji Rocks, and more, and releases on some of electronic music's most renowned labels including Columbia, OWSLA, Rinse, and Night Bass.
STEREOPHONICS share new track 'CAUGHT BY THE WIND'
The return of Stereophonics gathers pace as they share the new track 'Caught By The Wind' together with its accompanying video. The track is the second to preview the October 27th release of their new album 'Scream Above The Sounds' after its lead single 'All In One Night' was premiered by Chris Evans on Radio 2. 'Caught By the Wind' also made its television debut this morning on TODAY with a performance in their New York studio – watch here.
Catch witchy vibes with Kim Boekbinder's new album
Kim Boekbinder is a noise witch, casting neon spells over shadowed rooms with her hypnotic synth incantations and pulsating basslines. Following up the success of 2013's electro alt-pop space epic The Sky is Calling, Kim will release NOISEWITCH on September 8, 2017. Mixed by Joel Hamilton (Highly Suspect, Pretty Lights, The Black Keys) at Studio G in Brooklyn, the new album is danceable witch-pop, each song is a spell cast on the audience.
New Candys Share "Excess" Video Via New Noise Magazine
Venice, Italy-based alternative rock band New Candys announce their upcoming LP, Bleeding Magenta, due out in October 2017 via Fuzz Club Records. New Candys formed in 2008 and gained a buzz through playing European festivals, such as The Secret Garden Party and Liverpool Psych Fest 2016. They recently landed a major sync for their song "Aphrodite In Leather" on SHOWTIME's hit show "Shameless." New Candys have shared the stage with rock notables, including The Warlocks, Dead Skeletons, The Vaccines, Slowdive and more.
ENTERCOM LAUNCHES "I'M LISTENING" CAMPAIGN FOR MENTAL HEALTH AWARENESS AND SUICIDE PREVENTION
Entercom has announced today the launch of the "I'm Listening" campaign for mental health awareness and suicide prevention. The campaign includes a two-hour on-air special that will be broadcast live from Seattle on World Suicide Prevention Day, Sunday, September 10, 2017 at 10:00 a.m. ET / 9:00 a.m. CT / 8:00 a.m. MT / 7:00 a.m. PT across all Entercom platforms, a first in the company's history. Additionally, the campaign includes suicide prevention PSAs, on-air promos and live conversation airing on Entercom stations beginning today.
The two-hour live special will focus on personal stories from artists and celebrities while offering help and resources to listeners via a live call-in option. The conversation will be led by BJ Shea, Entercom Seattle KISW-FM on-air personality, and will feature guests such as Christine Moutier, M.D., Chief Medical Officer of the American Foundation for Suicide Prevention and Dr. Ursula Whiteside, clinical psychologist, CEO of NowMattersNow.org.
INJURY RESERVE Release "North Pole"
The group's music videos are equally championed alongside their brand of "blue collar rap"; known for producing high quality visuals to complement their hard hitting bangers and at times softer, shimmering singles. Speaking to Pigeons & Planes, the band discuss that "North Pole" is an ode to the group's new home base in Los Angeles, CA.
724 Food Rescue Launches at Farm Aid 2017
Since the launch of 412 Food Rescue, nearly 2 million pounds of good food has been saved from going to waste in Allegheny County and instead distributed to communities in need. Now 412 Food Rescue is bringing these efforts to Beaver, Butler, Westmoreland, Fayette and Washington counties with the launch of 724 Food Rescue.
"We received so many calls from people asking us to expand the service to the 724 area, calls from people wanting to help, calls from people needing help, and calls from donors wanting to help their communities," says Leah Lizarondo, 412 Food Rescue co-founder and CEO. "This effort is possible because of our partners who saw our impact in Allegheny County and stepped up to make it happen in their county."
NECK OF THE WOODS: Vancouver Progressive Death Dealers Issue New "Face Of The Villain"
Vancouver, British Colombia-based NECK OF THE WOODS has unleashed another slab of progressive death metal from their impending album The Passenger upon the public, releasing the track "Face Of The Villain."
Daisyhead Premiere "Cute Little Finger" Video
Emo pop-rockers Daisyhead have had a tough year. After numerous problems with their van caused them to cancel dates, they found themselves at home with no money and no way to continue their dream. The band feared this may be the end of their life on the road – albeit for the immediate future — but instead, they rose up. Working multiple jobs while recording an EP and planning a tour to Europe, Daisyhead have finally come out on the other side, and they're better for it.
YANGAROO and Hub Artist Services Enter Agreement
YANGAROO Inc., (TSX-V:YOO) (OTCBB:YOOIF) the industry's leading secure digital media management and distribution company, today announced a multi-year agreement with Hub Artist Services to provide secure delivery of music from record labels and independent music artists to broadcasters, music reviewers and other destinations in Australia and New Zealand with the newly minted brand, "HUB DIGITAL DISTRIBUTION, powered by YANGAROO". The agreement initially is for delivery of audio files only.
YANGAROO Music is a proven solution that has been successfully delivering music securely and electronically for content owners to radio broadcasters and other destinations in North America and other territories for over a decade.
Julian Martel & Tiger Beat Team Up To Premiere "Get Over It"
R&B pop artist Julian Martel has teamed up with Tiger Beat to release his irresistible debut solo single "Get Over It," his first release since his time with US boy band New District. "Get Over It" is the first single from Martel's forthcoming debut EP, set to drop this fall. Boasting an infectious pop tune with a bouncy R&B-based groove, "Get Over It" is a taste of Martel's vibey new pop sound, and is sure to become one of the season's hottest tracks.
Stefflon Don – 'Hurtin' Me' (ft. French Montana)
The track is the first official single from Steff's Universal Music imprint V-VI Records and also serves as her first release under new US label Quality Control.
NRA Country Names LOCASH As Featured Artist For September
NRA Country has named chart-topping Country duo LOCASH as the Featured Artist for September. Throughout the month-long promotion, fans can enter for a chance to win two tickets plus meet and greet passes to an upcoming show as Preston Brust and Chris Lucas continue to crisscross the U.S. promoting their upbeat, committed smash single "Ring On Every Finger." Details about the contest will be shared with fans later this month in conjunction with a big concert announcement. A special, exclusive Q&A about their love of the outdoors is currently available at NRACountry.com.
"I grew up in Baltimore and would go to the ocean almost every weekend. On the way to the Eastern shore, the duck, deer and turkey hunting was incredible. My uncle, cousins and all of us would go crabbing and fishing as well, so the outdoors have been part of my life for years and I'm so proud we're NRA Country artists," shares Lucas.
French brutal rock unit Time For Energy premiered new music video "Bad Jokes Never Die"
Since 2008, Time For Energy played, as a French four-piece band born around the area of Nantes, a very exciting mix of hi-energy modern rock'n'roll, power-punk, emo/hardcore indie from the 90's and alternative-metal called : "Brutal Rock".
CHAMILLIONAIRE STARTS THE ROBIN'S HEART FOUNDATION TO ASSIST WITH HARVEY RECOVERY
As efforts ramp up to help get Texas get back on its feet in the wake of Harvey's historical damage, Houston native Chamillionaire continues to do his part. After several days of relief work including driving water and supplies to some of our hardest hit areas like Beaumont, Orange and Port Arthur and seeing not only the devastation but in many cases, the complete lack of basic needs, Cham felt the call to do more. This was the inspiration behind the Robin's Heart Foundation, Chamillionaire's newly formed 501©3 charity, for monetary donations.
Pure Grain Audio Premieres New SINICLE Video: "Operations Activate"
Los Angeles power trio SINICLE have partnered with Pure Grain Audio for the exclusive premiere of new video "Operations Activate." The song comes from forthcoming album Angels & Demons.
MILCK UNVEILS NEW STRIPPED VERSION OF BREAKTHROUGH ANTHEM "QUIET"
Atlantic Records singer/songwriter/activist, MILCK has released a powerful new version of her viral song, "Quiet" – available today via all DSPs. "Quiet (Stripped)" and the accompanying performance video premiered exclusively earlier today via Billboard.
Taylor Swift of Rap
Whitney Peyton has been keeping busy since announcing her signing to Tragic Hero Records. She's preparing for a huge 55 date tour that kicks off Thursday 9/7 in Lansing, MI with her upcoming album release for "Firecracker Pyro Edition" on 10/6. Whitney is stoked to show a new side of herself on the track, "You Are," off the upcoming record.
NEW visuals from the self-proclaimed "Gangsta Goddess"
Charm'n gets edgy on her new video and she advises everyone to "keep up" with her ever changing and developing sound, some are calling the new wave. This is a artist who you may want to pay attention to in the next few months.
Obvious Creature Announces Atmospheric New Album with Debut Single 'Time'
'Time' is the debut single from 'It Ain't Much Better In Here Kid,' available worldwide via Golden Brown Oct. 6 digitally and on cassette.