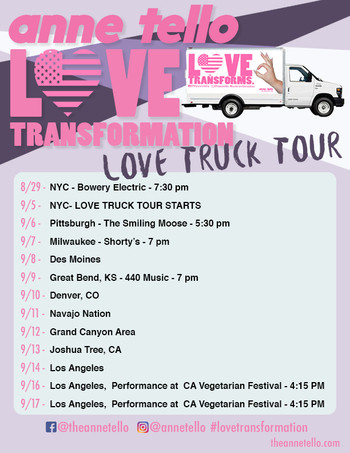 Her new single "Love Transformation" is coming out this month and her tour will feature concerts and appearances in New York, Pittsburgh, Chicago, Milwaukee, Des Moines and Denver, along with stops in Kansas, Arizona and California too.
Anne is driving cross-country (from New York to Los Angeles), while transforming the face of her van into a "billboard" that says simply "Love Transforms" with a "glam" yogic mudra symbol on the side.
In some markets, she will be performing in a nightclub. In other markets, Anne will appear at a local park or historical site and perform acoustically for whomever shows up.
Everyone in attendance will receive a free download card of the new single after the acoustic performance and a friendly Meet & Greet with Anne.
Sincere, fun — all while providing a message of peace, tolerance and understanding to the audience through Anne's songs. Social Media is starting to buzz about Anne's positive message and the cool, informal and free nature of her performances.
The appearances will be professionally filmed and released on You Tube after the tour – chronicling all of the wonderful people Anne will have met while driving and performing across the United States in her decked-out Peace van. "Love Transformation" is about the power of love being painful and beautiful, and the only way forward.
It would be a message of peace in this time of political strife in America. Anne would be "selling love" on the billboard rather than capitalizing on fear, as so many brands and outlets do these days. It's small acts of kindness that help. It's shameless positivity with no strings attached.
Anne also has a charity alliance with Shelter Partnership, which has delivered millions of dollars worth of goods to the homeless.