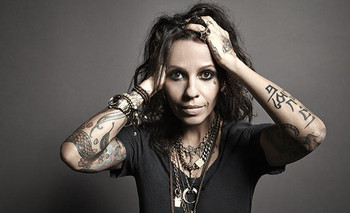 Grammy nominated songwriter and producer, Linda Perry, is getting ready to spearhead the search for an 'all girl band.'
All Girl Band, a music driven television show from Digital Media Studios and We Are Hear, will tour iconic music cities in the United States to search for the most talented, undiscovered female musicians.
"We are looking for authentic, timeless musicians who can fill the void in the music industry," says Perry. "We want women who don't fit the mold of your typical pop star. We're looking for the female Rolling Stones."
Utilizing online submissions, surprise drop-in auditions and major public events, the search will be held in markets including New York, Nashville, Chicago, Seattle, Austin, New Orleans and Los Angeles, where Perry will be joined by female rock legends from each city.
The search will narrow down the 50 best singers, guitarists, bassists, keyboardists and drummers. In the end, with each battling it out to become the 'All Girl Band.' The best band will then be signed to a record contract, have the chance to write and record an album with Perry as well as embark on a tour.
For more information on All Girl Band, please contact Info@AllGirlBand.Net