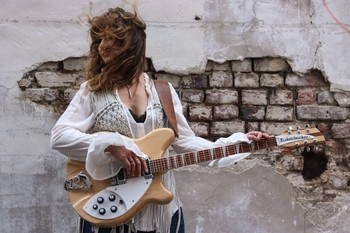 Americana singer-songwriter Shelly Waters is set to release her new, self-titled album on July 28, 2017. Evidence of Waters' jambalaya-like recipe of sonic spices – and then some – are found within each of the dozen tasty tracks on Shelly Waters, which was recorded in Nashville with renowned producer and multi-instrumentalist Josh Kaler. "I feel like this record is the true representation of what I feel when I play the music that I love. This is Shelly. This is me. This is a reflection, and this is a representation of me."
Waters' musical roots run as deep and wide as the mighty Mississippi River that snakes through her home state of Louisiana. Her sound is the epitome of the holy tonal trinity of blues, country, and rock. "I want my music to represent all of those genres – because that's what I love best – and I love blending those sounds together," Waters affirms. "Growing up in South Louisiana I listened to a lot of swamp pop, old R&B, and rock 'n' roll. Those tones and those iconic voices are what I'm drawn to and that's what I feel the most comfortable singing. My music is Americana through and through." The uniqueness of Waters' powerful and haunting voice brings her music to life and her lyrics betray a life filled with twists, turns, and adventure.
What was the inspiration behind this particular song? What prompted you to write it?
I must admit, I love sad songs; love to sing and write them. The line "I knew you when…you were mine" popped in my head one day and my thought process immediately went in the direction of writing about someone having a difficult time coming to terms with a break-up. As the song came together, my goal was to basically lead and build the lyrics towards that hook at the end of each chorus. This is one of those songs that when I perform it, it seems like people are holding their breath from the start and don't breathe out until the first time I sing that line. LOL! I know that's not really what's going on in the audience, but I do feel like this song accomplishes exactly what I intended.
Working in the studio sometimes has some funny/interesting results. Do you have any great stories from the recording session for this song? What was the vibe like in the studio when you worked on it?
Producer/multi-instrumentalist Josh Kaler immediately understood the vibe of this song and we decided to build the instrumentation to go with the lyrics. At the beginning of the song, it's my voice and Rickenbacker only telling the sad story, then we started layering until that big final chorus and simple minor chord finish. At some point, Josh picked up an acoustic guitar that was strung with the high strings of a 12-string set, and, to my surprise, it sounded great in this song! "Knew You When" turned out just as I imagined it would.
Who directed the video? Whose idea was the video treatment? It's so basic but so alluring and impactful because of its simplicity. Was that the intention here? Where did you film it?
This video was directed and edited by William Wright of Resound Media Group and Nico Valderrama assisted during the shoot. With William's help, Jeff Wagner of Music Farm Productions agreed to let us use the stage at Music Farm Charleston for this one. It's a popular music venue located in historic downtown Charleston, SC that hosts touring musicians year-round. I am not a big fan of lip syncing, so I really sing for music video shoots. Not only was this venue a perfect setting for a somber video, but it was also super cool to hear my voice ring out throughout a place with awesome acoustics. William came up with the video treatment during editing and after seeing the first round of editing, I gave him a thumbs-up.