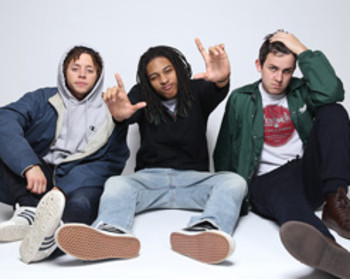 When they were only 15, classmates and former JV basketball teammates Tahmique Cameron and Gabe Fox-Peck began performing at talent shows and recording songs in Fox-Peck's bedroom. The name Young Bull came as a reference to their hometown Durham, N.C.'s nickname as the Bull City, and anchored by Cameron's tender vocals and Fox-Peck's intricate keyboard and production skills, their unique sound- a mix of jazz, funk, R&B, and hip-hop influences- began gaining traction online, while energetic live performances helped capture the attention of local bookers. In 2016, the crowds continued growing, and the duo added Raleigh-based rapper Christian Sinclair to the mix.
http://www.youngbullmusic.com/
Young Bull's released their debut studio album, Sopadelic, last summer, which earned comparisons to Anderson Paak and the Internet. The album quickly reached over a quarter of a million plays on Spotify, and through regular touring have grown their fanbase from Brooklyn to Asheville. Sopadelic is complex and interesting, but in a way that's easy to understand and pleasant to listen to, making it feel completely intentional. Super Empty Mag praised Young Bull's versatility, saying Sopadelic "spans from soulful, quiet ballads to trap songs that wouldn't sound out of place on major radio" and The Blue Banner Asheville says they have "the perfect mix between soul and swagger."
When the cops came to shut down a recent show in Raleigh, it would've been easy to call things off, but the party wasn't over for Young Bull. Director, editor, and producer Lance Oppenheim instead turned the whole evening in to a music video for "Voicemail." The trio drive around the city, and close-up angles make the viewer feel like they're right there experiencing things with them. Eventually they end up at Waffle House, where even the waitress is intrigued to listen to their music. With the "Voicemail" music video, one thing is for certain: Young Bull never stop hustling, and they never stop having fun.