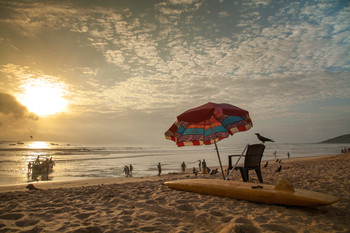 Goa needs no introduction, over the years it has become a rite of passage for the younger generation who see it as an inevitable part of growing up. With beaches, shacks and an unparalleled nightlife, it has also developed a notorious reputation for fun. With the Sun and sand lifestyle, experience Goa with great offers on Yatra and book flight tickets from Delhi to Goa on Yatra for a vacation you will never forget. There are some concrete reasons why Goa ranks so highly on every youngun's list.
The importance of "chill."
Goan people are famous for having a laid back and easygoing attitude towards life. They believe in living life to the fullest, and the place reflects that attitude. Thus, making it perfect for the younger population who are looking for a place to chill, relax and have a rejuvenating experience.
It is always Happy Hour
Goa is famous for their shacks that serve alcohol on the beaches. Easy on the pocket and present at every corner, these shacks are perfect for the young crowd who are not looking to spend too much. Further, their location makes it a perfect combination. After all, the beer tastes better when watching the tide hit the shore.
Always ready to party
The city is home to some of India's best known night clubs, lounges and bars that are guaranteed to make your trip memorable. Even during the day, shacks can be seen playing upbeat music much to the love of the visitors. Festivals like the Goa Carnival, Goa film festival, are particularly intoxicating as the entire city is transformed into one great party.
Naturally beautiful
Goa is one place that has an abundance of natural beauty at any time of the year and from any point in the city. The rides on the rented bikes become more special as you take in the spectacular scenes that greet you at every turn. With its towering palm trees, cashew plantations and white sand beaches, it serves as the perfect setting to remember a trip with your friends.
The beach life
Goa is known for its beaches, from the popular ones such as Baga, Colva, Calangute to the lesser known but beautiful Palolem, Arambol. Perfect to run barefoot with your friends on its white sand beaches with the waves hitting your feet. The beaches are the perfect setting for a vacation with your friends as you relax and take in the surroundings while being served the best Goan cuisines in the on-site shacks.
Water sports
Goa has a host of activities that keep the young crowd engaged and entertained. With water skiing, banana boat rides, scuba diving, water scooter rides, there are some options to choose your kind of water sport. Guaranteed to make your heart race, they serve as the perfect adrenaline fix that some of the youngsters crave.
Local attractions
Apart from its highly publicized beach life, Goa is also known for its architecture that is a relic of the various influences on its culture. With churches and cathedrals that give the place a charm of its own, there are ample of attractions to explore. The local flea market also draws a huge crowd with its eclectic mix of jewelry, clothes and souvenirs.
With its wide array of activities and an environment guaranteed to put your mind at ease, it is no surprise that it has become such a hit with the younger population. The travel industry has also picked up on this trend, and sites like Yatra offer some great deals. So, pack your clothes, grab your friends and book your flight tickets from Delhi to Goa on Yatra to create memories for a lifetime.