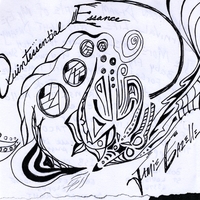 In the inaugurations of Carter, Jamie Gazelle opened on the eclipse that day in Washington DC as he was then living in Maryland with new wife Roxi. About 50,000 people were on the lawns that day and the song "Open Window" shook the whole place, and a few girls were coming up afterwards who that band and singer was. A year later Jamie had moved to music city, Nashville, TN and he found himself a small tuna amongst whales and things did not go so well. Jamie is not really country and found the market was seriously overcrowded. After two years there he moved back home after having nearly everything stolen one night by evil roomers.
Jamie Gazelle's songs are fresh, vibrant and full of positivity. That's the first impression you get from them and it goes from there. But you'll have to go back to 2002 to start with in order to trace him properly with "All The Love I Can" released on CD Baby in 2002, which can be accessed at YouTube. This is a well-rounded love song with some excellent guitar work and a smooth jazz appeal. It winds up as good a place to start as any to see how he blends serious musicianship with playful vibes, contagious vibes at that. It's still a good tune to this day with a lot of potential.
REVERBNATION: https://www.reverbnation.com/jamiegazelle4/song/20323308-ready-up-the-jet
Jumping ahead somewhere to "Ready Up The Jet" you get a whole different ballgame as he sounds like a whole different artist. It instantly sets him apart from the former approach and shows how versatile he can be in just one stroke to find what lies in his musical canon. This is pop-rock music done very, very well. It kicks off with a keyboard intro you can remember with ease. That's a hallmark to any good tune. I'm not sure where the inspiration comes from but some of it is R&B based in a Michael Jackson way, mixed with a little Prince to rock it up. And rock it does, with a solid beat to keep it going at a rapid pace with a top-notch chorus.
"Drop Dead Angel" is another winner with a power-pop speed to it, but it contains more substance than the former track, with a better songwriting approach. It just goes to show even more what a monster could be hiding here. This music is made for the radio and should be somewhere on it. This track rocks even harder, with a more straightforward rock approach with some power-pop bells and whistles. It carries a strong message with some excellent lyrics to back the searing guitars and beefy percussion. And once again he specializes in a great chorus to nail it together. This isn't some throwaway garage number, it should be a hit.
"Dragonslayer" or "Your Dragonslayer" which it can be found as, shows another side of Jamie Gazelle's songwriting and studio performance ability. But it doesn't seem to catch the same stride delivered in some of his other songs. But it does show his softer, more romantic side. But what can also be told about his music is that if you go beyond these four tracks you'll discover how deep he goes in the-area of variety, with fair amount of high quality songs that span the vernacular of styles these four tracks don't cover the range of. And that is all-the more reason to search him up, because there is quite a bit more to enjoy.
CD BABY: https://store.cdbaby.com/cd/gazelle3
Larry Toering