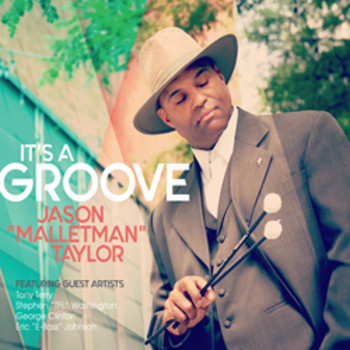 It takes a deep desire and a love of music to attempt a comeback. That would be the case with musician Jason "Malletman" Taylor. Jason comes from a time when musicians were popping up everywhere, jockeying for someone to listen to them. Jason was one of the lucky ones whose mother, through her love of music, turned him on to the likes of Barbara Streisand, Carole King, Jimi Hendrix, and his future mentor, Lionel Hampton.
At first, Jason took up the drums, but soon learned to play the xylophone, and finally the vibraphone. The latter was the instrument Lionel Hampton was famous for playing. Jason was so impressed with Hampton's talent that he decided he would work hard to emulate him.
He even walked around campus carrying the jazz legend's albums when he attended Suffolk Community College. Jason's dream came true about two years after going to his first Lionel Hampton concert in Nanuet, NY when he went backstage at one of Lionel's shows at The Hollywood Bowl in Los Angeles, CA. It was there when he met the one who would be responsible for his future success.
He would not only learn a special vibraphone technique, and serve as Lionel's valet, he also ended up moving in with his idol. Being Hampton's roommate gave him the opportunity to learn the ins and outs of the business end of the music industry. Jason would be in awe as he would answer Lionel's calls from such legends like James Brown and Quincy Jones. The biggest highlight for him at 22 years old was performing at the White House with Hampton for President Ronald Reagan's Inaugural Gala. He also toured with Hampton throughout Europe.
The lessons he learned from Hampton enabled him to go on his own. He would soon find himself opening up for, and being on bills with, such acts like Earth, Wind & Fire, Isaac Hayes, Pancho Sanchez, The Manhattans, Najee, Paquito D'Rivera, Pieces of a Dream, Diana Reeves, Maya Angelou and Cheryl Lynn. At this time, Jason would form Mallet Records, Inc. with a mission to "keep real music alive."
"It was an honor opening up for such acts like Earth, Wind & Fire, but I was so focused on being like my idol, Lionel Hampton. Being the protégé of Hampton was the highlight of my life and I wished to carry on his type music."
Taylor then released his first single "Once Upon a Mallet" (1984) which made a mark and received some fanfare. At the beginning of the 90's he released two successful tracks "Love Attack" and "Pick Me Up." Both projects made some noise, especially the project "Love Attack (The Remix)" which managed to reach #24 on the Let's Dance! Record Pool Urban Chart in December 2000. In addition, Jason would become a five-time Grammy ballot-nominee.
His music is a fusion of Jazz, R&B and Swing which has become his signature sound called, "vibrafunk". Taylor kept his foot to the pedal when he became a Yamaha artist and clinician. He would set up music clinics at many educational institutes and churches nationally. At these clinics he shares his rich musical history and throws in some percussion lessons.
These efforts did not go unnoticed when he teamed up with NJ Mayor Sharpe James and the Berger Organization to open a Jazz club in 2001 called Mallet's Place. Even though it only lasted two years it was a great experience. This eventually opened the door to another venture, when he was invited in 2006 to host his own cable access show "Mallet's Place – TV" which is produced by Spectrum (formerly Time Warner Cable) Community Television in Staten Island. 11 years later, the show is still on the air, which new episodes being taped monthly.
The show's mission is to showcase artists and bands who play live music with actual musical instruments, with the hope of inspiring and educating the next generation of performers and musicians. The program, which is considered to be one of the more popular on the cable access line-up, is about to tape its 78th show. Jason also was sort of a pioneer when he held a "mini holiday tour" at twenty-six Bed Bath & Beyond stores during Christmas time, 2005. It was the first time it was ever done. Jason had the idea of performing at the stores and the "higher ups" thought it was crazy at first, but soon realized how talented he was. Hence, they offered him the opportunity to set up a tour.
Jason had the pleasure to also play at such venues like BB King Blues Club & Grill and The Cutting Room in New York City and Jimmy Mak's in Portland, OR. In February 2015, he set up a show at the club Crossroads in Garwood, NJ, with his all-star band, featuring drummer Bernard "Pretty" Purdie (played with Steely Dan, Aretha Franklin, James Brown, BB King and more) Latin percussionist Tito Puente, Jr. and keyboardist Alan Gerber. It was a Valentine's Day show that few would forget.
Currently, he is making a gallant comeback with a new EP entitled "It's A Groove" which has a crazy line-up. On this project, he has brought with him two-time Soul Train Music Award nominee Tony Terry, funk master George Clinton and Taylor's protégé, keyboardist Devone "Da-Vine Tuch" Allison. To add to this legendary list is producer Eric "E-bass" Johnson, who has worked with the likes of Jay Z, Snoop Dog and Mariah Carey.
"The new EP represents my youth in Brooklyn, which was heavily influenced by R&B which is what I was raised on. I was blessed to have folks like George Clinton and Tony Terry join me for this project."
To promote and support the new comeback, Jason "Malletman" will be taking the stage at The Cutting Room for an EP release party. It may be rare that artists like Jason dare make a comeback, but Jason is not holding back and hopes to inspire others to do the same.
by Nick Christophers