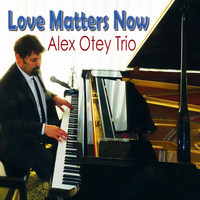 Alex Otey wears many hats. He is a songwriter, a singer, a pianist and a producer all rolled into one. Talk about being talented! After having participated in one Grammy winning and two Grammy nominated projects, Otey has set his sights on leaving an indelible mark on the music landscape with his new album, 'Love Matters Now.'
The Alex Otey Trio, composed of Otey, bassist Chris Clark and Kevin Kuchinsky (drummer) worked on the album, releasing 12 vocal Jazz style songs that have been described as light hearted. 'Love Matters Now' comes across as a funky fusion of different musical styles. It is a mixture of Harry Connick Jr., Dr. John, and Randy Newman.
The album is Otey at his best, showing him off to the world as the incredibly talented and musically flexible artist that he is. It is this talent that led to collaborations with Orlando Otey, Leonardo Le San, Miss Amy, Richie Cole and Chuck Schaeffer.
Guest artists featuring prominently in Love Matters Now include:
Amy Otey-Backup
Richie Cole- Alto Sax
James Popik- Guitar
Lars Wendt- Trombone
Dom DeFranco- Tenor Sax
Darrell Soltesz- Drums
Ryan Ross- Drums
Alex Otey's career as a producer has also paid off, with his work as a contributing producer on 'All about Bullies Big and Small' leading to a Grammy win. Another project, 'Fitness Rock and Roll' was nominated for a Grammy. Otey has also produced Americana, Jazz and Country records for some well-known artists.
While he's known to perform in Central New Jersey regularly, Otey also frequents Philadelphia, with stops at the Pennsylvania Academy of the Fine Arts, Harrah's Casino as well as World Café Live. A performance at the White House Egg Roll event in 2010 is one of Otey's proudest moments. Otey also hosts The Trenton Jazz Show on WWWFM Jazzon2 89.1 HD2.
'Love Matters Now' is available on iTunes and major CD distributors.
By John Rohan