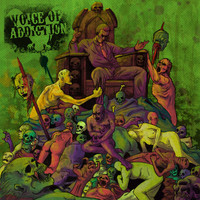 I won't lie, when I see political bands, I feel a little nervous. I am definitely on the left, and usually the issue is that there's something missing, or the band doesn't think an issue even counts. I was glad to see that this isn't the case with Chicago-based band Voice of Addiction. Their new album, The Lost Art of Empathy, points out a lot of issues in the country and the world with clever lyrics and killer music.
Voice of Addiction covers so many issues in this album. From classism and racism to the corporate greed that manipulates us and controls the entire world. With a band like this, it's a disservice to them to not pay attention to the lyrics. They don't sugarcoat a damn thing and it's the best thing about The Lost Art of Empathy. With melodies that cut as sharply as the lyrics, they have a distinct sound that takes punk rock and turns it into something entirely new. Everything that they try to show in their music, they absolutely deliver.
Stream: https://voiceofaddiction.bandcamp.com/album/the-lost-art-of-empathy-2
I love the opening for "Ad Nauseum" and I appreciate the near discordant sounds from every instrument. That's a common theme in the album, one that works well. The lyrics are strong as hell, it's calling out the manipulation of the public through fearmongering in the name of greed and unjustifiable wars. It notes how those in power would rather create a fictional threat to horrify their people than just be monsters openly.
The most powerful song in this album was "I Can't Breathe" – it's about the death of Eric Garner, who was killed by NYPD officers in 2014 after being put in a prohibited chokehold for at least 15 seconds. Honestly, I made it about four seconds into the song before I started to cry. The lyrics are about a metaphorical plane crashing, and one line is about how only those in first class have belts. You'll have to listen for yourself to really understand the impact this song makes, but here's one lyric that really hit it home- "If all lives matter, why won't you share the safety boat?" It's my favorite track on The Lost Art of Empathy.
"Alcorn Queen" is basically a declaration to the privileged masses that their insidious constructs aren't going to work anymore. There's always going to come a day where the marginalized will finally be heard, and you won't be able to control that. Another favorite lyric is in this song- "Your perfect box is breaking at the seams, one size fits all couldn't fit humanity." I love that. Their lyrics are so brilliant, I am still catching great lines that I'm sure to be excitedly telling friends about for the next week.
Everyone should listen to this album, and this band. With their talent and the impactful lyrics, I think Voice of Addiction is an incredibly important group, one that I will gladly support however I can from here on out. If you're left-leaning and want some music to pump you up and get ready for revolution, this is absolutely the album for you. I can't recommend it enough.
10/10
Victoria Patterson