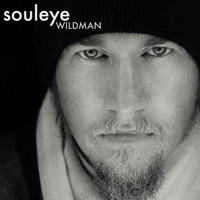 Souleye's "Hip Hop Medicine", was quite the summer time hit, when released this past June. Now that the summer is drawing to a close, with fall right around the corner, what better way to beat the heat, then with a new track like "Wildman".
The track has already gotten such a buzz with reactions ranging from "So good", to "Awesome job", down to "Amazing track", "Such a great flow", to "Well done". So is it as good as reactors are saying it is by these words of expression. Well it actually is good, very good indeed. The track features a guest spot from a women by the name of Lynx, who swaps between the lyrics with Souleye doing the verse, with Lynx doing the main course.
Both of them do well, playing off one another, Souleye keeping his genuine style afloat, whilst Lynx keeps her originality alive and well. Her vocal chords being crisp clear as possible, really bring the music together. While Souleye's verse work is well played out, let alone sung out as well. His vocal structure being very catching and upfront. He is able to work his voice with the lyrics really well. The melody of the music just rests in the backdrop, as the song plays itself out. In short, Lynx and Souleye's combination is the right touch to get this track noticed, because each share a connection that keeps the beat jumping!
Now Lynx may have more vocal time in terms of singing than Souleye's share with his role being the verse provider, but Lynx's voice is just so powerful, and impressive it is hard not to want to hear her sing. Souleye is great no doubt about it, but having him perform his share of the track is just fine, even if it is just for the verse portions. In terms of the music it takes the hip hop approach stretching it out, to sounding not like your average hip hop track, but more of a stand out track by itself. It is still hip hop based but sounds more fleshed out. It sounds jazzy and even poppy at times, making it more original and unique to the ear.
As for how it is to his previous summer time hit, "Wildman" does not compare to it. It is much more thought out, plays itself to being a well balanced source of music, from two different artists, keeping it genuine through and through. All in all Souleye is one of those artists you can listen in on, hearing his work, no matter what, knowing that it is his work and his alone. He just has that skill set to keep his music, more developed and centered.
In the end Souleye and Lynx have crafted together a track that will become a successor for sure. For if it was not for Souleye to bring Lynx in on this track at all, there would be no track to enjoy. This track is it, it has so much going for it, that the listener will surely become pleased when listening in.
By Natalie Perez