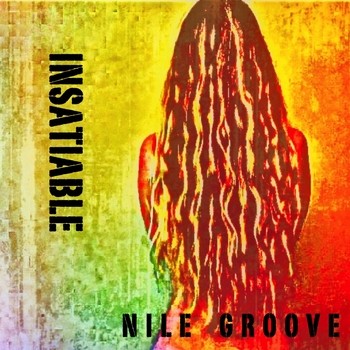 CASEY BOLLES REBORN AS GARDENHEAD NEW SONG "UNDERWATER"
After much reflection, soul-searching and an abundance of fanfare, singer-songwriter Casey Bolles will make his return this year with a new project called Gardenhead. Today, he's partnered with NewNoiseMagazine.com to debut his first single, "Underwater," under the new moniker. Fans can stream the track on Spotify starting August 4th.
Cris Gamble – 'Stars' Single
Growing up around it and listening to the music ever since he could remember, Cris Gamble has always had an ear for good Hip Hop. Influenced heavily by his Latin-American heritage, Gamble brings a style that isn't heard very often.
Gamble's wordplay combines 90's East-Coast lyricism, early 2000's Dirty-South and Trap flows. Blend this with contemporary synths, heavy bass lines and new age sampling and we have this brand new flavour which is Cris Gamble.
SAMADHI SITARAM Release +18 Official Video For 'Qliphoth'
Russian group Samadhi Sitaram have just dropped their second video release from their new album KaliYuga Babalon. This is an +18 rated official video showcasing Samadhi Sitaram usual array of provocative images and genre bending music. Qliphoth twists and turns from melancholy to searing rage in 4 and a half minutes of subtle and sensual brutality. Not for the faint-hearted!
"Pursuit of Destruction" by Bloody Times now officially on YouTube
Bloody Times just released a double-single, feat. two former Iced Earth boys John Greely (vocals on "Night of the Stormrider") and Raphael Saini (drums on "Plages of Babylon") and now the main track is officially available on YouTube. Check it out if you're into true metal and share it to your metal friends!
Frida Sundemo announces international debut album 'Flashbacks & Futures'
Swedish songstress Frida Sundemo has announced the release of her highly anticipated international debut album Flashbacks & Futures, due for release on October 6th through leading Scandinavian record label Cosmos Music.
Flashbacks & Futures is a record inspired by space, traversing a vast universe from minimal synth-pop isolation to heavenly orchestral vistas, filled with colour and beauty.
BLACK MARE: Dark Ambient Project Led By Sera Timms
Amidst a backdrop of political strife wherein such fundamental principles as the health, safety, and common decency toward women continue to erode more with each executive order and Twitter fit, the spirit of BLACK MARE stands unbridled under the singular vision and limitless purview of its driving force, one Sera Timms.
Danny Brown releases 'BTS' Video
Danny Brown just released the behind-the-scenes look into the making of his epic video for "Lost", an essential cut from 2016's Atrocity Exhibition (Warp). The clip features an intimate look at the crew and talent responsible for bringing to life the ever-illusive Danny Brown's masterful tome.
Danny Brown and high concept videos have become synonymous – from the glitchy Detroit-centric, VHS & jit homage in "When It Rain", to the anxiety inducing political commentary of Evian Christ-produced "Pneumonia" to the Jonah Hill-directed vaudevillian sitcom nightmare of "Ain't it Funny" to the just released "Lost". Check the BTS video for "Lost" and all videos below.
Bonzai shares video for 'I Feel Alright'
With her new single 'I Feel Alright' being hailed as an essential summer banger, Bonzai reveals it's music video; a celebration of being young and being out of control. Taking place at a makeshift rave in a forest clearing around a burning oil drum, things get wavier as night descends and the party heats up. 'I Feel Alright' is her 'Punk RnB' tale of the precarious thrills of going out, a 2017 anthem from a star shaping up to be the trap-rave P!NK of the Mura Masa-era. It's about the feeling of being young and lost but being brave that things are going to get better.
The Clientele wax nostalgic on Super 8 film for their "Everyone You Meet"
Today, The Clientele are sharing a music video for "Everyone You Meet" off their forthcoming album Music for the Age of Miracles, out September 22 in North America on Merge. It's their first music video since "Bookshop Casanova" from 2007's God Save the Clientele and finds the London trio crisscrossing through their hometown streets and parks on filter-free, real-deal film.
The Bottom Line release 'I Still Hate You' video ahead of Waterparks Tour
In celebration of their upcoming tours with Simple Plan in the US and Waterparks in the UK, British pop punks The Bottom Line have released a brand new video for the title track from their recent EP I Still Hate You.
The video premiered on Rock Sound yesterday, where frontman Callum Amies explained, "'I Still Hate You' is pretty self explanatory, we've all been there before. We rush into a relationship with someone we think is perfect, it becomes toxic and everything falls apart, pretty damn quickly. Usually these things just slowly go away and we get on with our lives.
Tinkerbelles' Announce East Coast Tour
Chicago noise-pop duo Tinkerbelles are heading out on tour to support the release of their debut LP, Confetti at the Bottom out Aug 22 via Tee Pee Speak Records. The limited edition LP comes in birthday cake splattered vinyl with cigarette-scented labels and features original artwork by Ryan Duggan.
Voldo Blanka creates 'movie moments'
Canadian electronic artist, Voldo Blanka, left the world of a touring rock 'n' roll musician to hone his skills as a composer for screen. Through this, Voldo began to look at his music as though it was a scene from a film, designing the sound around how one might feel or move in a certain environment. Tapping into deep sensations and emotions such as fear, anticipation, horror and suspense, the result is a form of sonic storytelling that's ethereal at times and 'auditory violence' at others.
Having formed a wealth of musical experience playing all over the world and recording with legendary producers for many years, the talented vocalist and multi-instrumentalist has found solace in the private creative process, and this intimacy with the music has led to the debut record of Voldo Blanka and his edgy brand of alternative electronica. For him, it has become a vehicle to rebel against the industry and the machine that too often spits out music that sounds the same.
DEAD HORSE TRAUMA Announces The Highway to The Revival Tour 2017!
Dead Horse Trauma announced The Highway To The Revival Tour 2017! The tour will be accompanied by hard-hitting locals from each area and will meet up with various touring bands along the way!
Since the release of "The Unmerciful Infliction" EP, (2008) DEAD HORSE TRAUMA has separated themselves from the pack with a high energy live show as well as an undeniable work ethic that has taken this band from a home town power house to a national touring juggernaut.
With their 6th release "LIFE" we see a band that has clearly grown into themselves musically, whether it's the lyrical message of the song "LEFT UNSAID" or the delivery of the riffs on " THE FAMILY". If this album shows where metal music as a genre is headed then strap yourself in for one hell of a good ride.
Fifth Harmony Announce Latin American Tour
Fifth Harmony will hit the road on a Latin American tour starting September 29 in Santiago, Chile. The group is set to take the stage in Argentina, Brazil, Mexico, Panama and Costa Rica performing brand new material and fan-favorites with an all new stage production. More tour dates to be announced soon.
CAPYAC Share "Talk About" Video On Earmilk
CAPYAC have shared the video for their single "Talk About" on Earmilk. Prior to "Talk About", the band recently released the video for their other single "Bubblegum" on High Snobiety. CAPYAC will also be heading out on a U.S. tour this summer. Dates are below. "Talk About" and "Bubblegum" are out now on Spotify.
PopCrush Premieres Lyric Video for Leland's Breakout Hit "Mattress"
"'Mattress' is about having that one friend who you wish was more than a friend," he explained. "You don't say anything because you don't want to f–k up the friendship, but seeing them with someone else hurts like hell. [It] was one of the first songs where it was obvious to me that I couldn't give it away. It came so easily because it was real to me. I'm glad I held on to it."
Prawn announces 'Run' out Sept 22
On September 22, Ridgewood, NJ's Prawn will release their new album entitled Run via Topshelf Records. Today they share the first single, "North Lynx" with NPR Music who says it "pits the pretty melody against an elephant-stampeding riff in a dramatic climax."
STREAM "DRIVE" by STATES & CAPITALS
From a basement in New Jersey to new LA digs, the Alternative duo is comprised of Richie Arthur age 20 (Vocals/Guitar) and Jeff Maurer age 23 (Drums). The two spent the last three years crafting a sound while honing their live performance. During that time frame, stages were shared with acts such as Cash Cash, Pvris, Safetysuit, Cassadee Pope, The Ready Set, The Summer Set, Handsome Ghosts, and Call Me Karizma.
New Track from Brother Cephus
The track is off their newly released six-track collection 'Not That Important', released in late July. Opening up to new elements in their sound, Gabe and Seth felt a natural tug away from their folk and indie-rock beginnings. According to Gabe, their new sound has a "hint of Americana and old rock 'n' roll, but also some post-punk elements."
Warner Bros. Records to Reissue Six Steve Earle Albums in September
Warner Bros. Records will release remastered versions of six classic Steve Earle albums next month, beginning with a trio of reissues on September 22: The Mountain, Earle's GRAMMY-nominated 1999 collaboration with the legendary Del McCoury Band, the GRAMMY®-nominated Transcendental Blues, originally released in 2000, and Earle's 2002 compilation album, Sidetracks. All six albums – originally released via E-Squared/Artemis Records – will be available in vinyl and CD formats.
Following on September 29 will be 2002's Jerusalem, which contains the controversial "John Walker's Blues," Earle's 2003 live set, Just An American Boy, and his GRAMMY-winning 2004 album, The Revolution Starts Now. This will mark the first time that Sidetracks and Just An American Boy have been released on vinyl. In addition, a remastered version of 1997's El Corazón will be released for the first time on vinyl on November 24 (Black Friday).
Nadine Shah Debuts New Track "Evil" On Interview Magazine
Inspired by Philip Larkin's poem "Days", Shah elaborates to Interview about the track : "It's a really short poem, it's great. Within just two stanzas he sums up all the problems with people's attitudes towards mental health or anybody who lives outside the norm. He says, "Brings the priest and the doctor / In their long coats / Running over the fields," which means that religion and medicine and society are going to judge you. It's where ["Evil"] came from, but also my own and my friends' experiences with mental illness."
MOGWAI SHARE NEW VIDEO FOR "PARTY IN THE DARK"
"Party In The Dark" has already enjoyed several weeks on the BBC Radio 6 Music A-list and has previously been described by Dazed as "a New Order-nodding melodic joy". The single will be available to purchase on 7″ on August 25th, paired with the exclusive b-side track "Eternal Panther". A distorted slab of Dinosaur Jr-esque noise-rock, "Eternal Panther" shows yet another side to the ever-evolving band
Dim Mak Publishing Signs Global Partnership With Warner/Chappell Music
Warner/Chappell Music, the music publishing arm of Warner Music Group, today announced that it has entered into a global music publishing agreement with Steve Aoki's Dim Mak Publishing (DMP). Effective immediately, Warner/Chappell will administer the entire DMP catalog, which includes a wide variety of dance/electronic works from songwriters such as Autoerotique, Garmiani, Henry Fong, Max Styler, Ookay, QUIX, Shaun Frank, Stööki Sound, and Viceroy.
"As Dim Mak continues to grow, having the right partners becomes all the more crucial," said Aoki. "Warner/Chappell has been important to my development as a songwriter, and now I'm excited to expand that relationship to Dim Mak Publishing's talented roster of up-and-coming artists."
The Academy of Country Music® has revealed the first round of performers and ticket on-sale date for the 11th ANNUAL ACM HONORS™, an evening dedicated to recognizing the special honorees and off-camera category winners from the 52nd Academy of Country Music Awards®. Music superstars confirmed to perform at the televised event include Kelsea Ballerini, Vince Gill, Toby Keith, Little Big Town, Maren Morris, Brad Paisley, Thomas Rhett, Hillary Scott, and George Strait. The 11th Annual ACM Honors will tape Wednesday, August 23 at the historic Ryman Auditorium in Nashville, TN, and broadcast on Friday, September 15 (9:00-11:00 PM, ET/PT) on the CBS Television Network.
Tickets will go on-sale to the general public at Ticketmaster.com and the Ryman Auditorium box office today, August 9 at 10:00 AM CST.
Slothrust Share "Milking The Snake" Track
DIY has premiered Slothrust's "Milking The Snake" a B-side from their 2016 album 'Everyone Else'. When talking about the track, lead singer Leah Wellbaum said, "Musically, I was going for a Black Sabbath at the beach situation. Lyrically, I thought about 'Polly' by Nirvana and riffed on that. We wanted to share it with everyone as this record cycle wraps up and we move on to writing more new music."
REBEL WIZARD: Invisible Oranges Streams New Track
The Warning Of One EP is the latest output from cryptic, negative metal act REBEL WIZARD. Offering up four brand new anti-shamanic anthems The Warning Of One is set for release on August 18th via Prosthetic Records, on cassette and digital formats.
HAIM & BloodPop® Release 'Little of Your Love (BloodPop® Remix)'
HAIM and BloodPop® have shared 'Little of Your Love (BloodPop® Remix)' today. BloodPop®, the acclaimed producer and songwriter who's worked with Lady Gaga, Madonna, Justin Bieber, Charli XCX, Mø, and more, transforms HAIM's infectious pop-rock track into an electro-pop bop that premiered today as Beats 1's World Record. Following the premiere, Zane Lowe called the remix "near perfection."
HYUKOH Announce First-Ever North American Tour
HYUKOH shot to fame in the summer of 2015, rocketing through the charts with their debut EP '20,' and eclipsing the carefully marketed K-pop supergroups. Their title "Comes And Goes" took the number one spot over songs by Girls' Generation and BIGBANG, two of South Korea's most popular acts today. An alternative to mainstream Korean music, the four-piece's light drums and gentle guitar strumming forgo K-pop music's heavy bass lines and synthesizers. Instead, vocalist Oh Hyuk lays his deep, raspy vocals over dreamy tones reminiscent of 90s indie rock.
INTRODUCTING AUSTRALIAN DUO HABITS
HABITS are the future of club music, a steamy, smoky vision of quicksilver dancefloors fueled by the dark, fierce and alluring. Based in Melbourne, Mohini Hillyer and Maia Connolly produce dark-club hits that explore the nature of ugly, complex feelings through the strength of a thick bass line, emotionally warped lyrics and the catharsis of an inevitable drop . Described as "going to a yoga class on MDMA", HABITS are indisputably the most intimate, empowering and sweat-inducing live act in Australia.
Elrae THE RAEMAN drops colossal new single "Sexy T-REXXX"
"Sexy T-REXXX", the new single by Elrae THE RAEMAN, is a funny, lyrical hip hop infused tune and also the debut release from the forthcoming N.R.G. E.P. Guided by futuristic beats, a sharp vocal delivery style and a healthy sense of humour, "Sexy T-REXXX" is a larger than life single from a talented artist who has been working hard to define his creative legacy and unique artistic persona.
Elrae THE RAEMAN is a multifaceted creator, singer/songwriter and producer based in Hackney, London. As an artist, Elrae is interested in making unorthodox, sci-fi inspired urban music that is equally intellectual and energetic. This is truly music from the streets and meant for the streets worldwide. "Sexy T-REXXX" is the latest from a visionary creator at the forefront of a new renaissance of global urban culture.
Nomis "A Million and One"
In "A Million and One", Nomis sets the mood of a 1920's Speakeasy by opening the track with an overtly Jazz inspired chord progression. Imagine a 60 year old man wearing a sweaty suit inside of an equally sweaty night club. Watch as he places a glass of scotch next to an ash tray while waiting for his cue from the piano player. That's what the instrumental of "A Million and One" feels like. Quickly the rapping begins as Nomis covers a multitude of topics ranging from personal struggle, societal failure, Black exploitation and how our response to these things shape our futures. Though the mood is relaxed, the flow and cadence of Nomis' rhymes are far from that. This song is definitely for those who are a fan of the art of rhyme with its pattern heavy syntax and ear grabbing punchlines.
Round Hill Music Enters Into A Worldwide Deal With Cobi
Round Hill Music is incredibly excited to have entered into a worldwide deal with multi-talented singer/songwriter Cobi. Cobi is on track to take the music industry by storm.
"I am thrilled Cobi chose Round Hill Music as his publisher. He is a unique talent embodying the true spirit of Rock and Roll, both musically and lyrically. He is truly gifted and commands impressive musicianship skills. Amy Birnbaum brought him to my attention the second she heard his brilliant debut single on 300 'Don't You Cry For Me." Amy and I were blown away when we saw him perform live. He is a star and his following increases with every show. Cobi has a long international career ahead of him. Our entire team is looking forward to a fruitful relationship with Cobi and his management. Together we will take his career to new heights. He is the real deal." – Patrick Conseil, SR. VP A&R
DANNY PETRONI'S GROOVE ROCK REVIVAL BAND THE BLUE PROJECT SET TO RELEASE NEW ALBUM
Sometimes good things come out of a natural disaster. Such was the case when New Jersey artist, Danny Petroni, created a band called The Blue Project as a way to support his fellow musicians following the devastation caused by Hurricane Sandy. Teaming up with three-time Grammy winning trombonist/vocalist Ku-umba Frank Lacy, Petroni plans to release the group's second album, Run Mindy Run on October 27, 2017, as the follow-up to their self-titled debut album from 2013. Run Mindy Run showcases the group's ability to create ultra groovy jazz/blues fusions, with influences from reggae, roots, funk and 70s psychedelic rock.
Collin Raye Honors Glen Campbell
In 2013, multi-platinum selling country sensation Collin Raye honored one of his heroes, Glen Campbell, with a tribute album of the Rhinestone Cowboy's iconic songs. The 12-track album titled, Still On The Line: The Songs of Glen Campbell, was an opportunity for Raye to show his respect and admiration for Campbell. Click here to order Still On The Line: The Songs of Glen Campbell.
Raye released the following statement on Campbell's passing: "My hero… My Friend… Glen Campbell, is gone. My heart is heavy. A lot of memories… the end to a beautiful era in music. His incredible legacy is what we have now. Thank you, my friend, for always treating me as an equal, though clearly I am not. May God comfort your sweet family, and welcome you into His presence. The Heavenly Band, just got way better. I love you, Glen. Happy Trails."
Frankie and the Witch Fingers announce new record
Pysch-trippers Frankie and the Witch Fingers have announced their new record Brain Telephone out September 5th.
The band has also released their new single "Learnings of the Light" which you can stream here via Brooklyn Vegan.
Additionally, the band is set to perform at this year's addition of Desert Daze in Palm Springs along side Iggy Pop, Courtney Barnett and Kurt Vile, Ty Segall, Ariel Pink and more.
SHIFTEE – "Psychic"
Mashing up pop-club sensibilities with dancehall sounds, Shiftee ties one off with Mad Hed City for "Psychic." The mid-range tempo is perfect for hip swinging and winin' up on the dancefloor, and Mad Hed's lyrics get the party cracking. Also streaming now is Shiftee's live routine of "Psychic," remixing the track live with his gold turntables. Stay tuned for the home stretch of the & Beyond series with the final EP You, Bap & Beyond coming September 15th.
BLK OPS Premieres "Truth Fuckery" At No Clean Singing
No Clean Singing has debuted a crushing new BLACK OPS single titled "Truth Fuckery," the track hailing from the band's impending split LP with CAVE BASTARD due out late this month via Accident Prone.
BLK OPS declares on the lyrical attack of the new song, "'Truth Fuckery' is about media manipulation and propaganda used by presidents to justify profit wars. It's primarily aimed at 'faux' news and their need to feed the war machine of the industrial military complex. It's saying whatever puppet president is in 'power' should pick up the sword and shield and lead us into battle if they're going to generate profits off conflict."