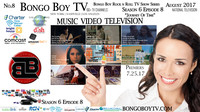 New TV episode Bongo Boy TV Season 6 – Episode 8 – Bongo Boy Rock n Roll TV Show in heavy National Television rotation on 66+ TV channels this week till 8.15.17.
The Corridors combine indie rock and classic rock into a powerful whole on the cinematic scope of "End Of The Times". Guitars and synthesizer intermingle together sculpting a dreamy atmosphere. By far the very heart of the song rests with the delicate nature of the vocals.
Elegant and rich Cold Roses delve into a symphonic sound on the colorful "Staying Alive Ain't Easy". Impeccably done the song displays such powerful storytelling. Together the two elements drive the song forward giving it a cinematic scope.
With "Once In A Lifetime" Colette Kavanagh sings with the utmost earnestness. Fragile in texture the song represents the best of folk and country. Poetic the way the song unfurls reveals a great ear for melody, as the song builds up into a great sweeping style.
Kaleigh's "Fading" presents a late-night vibe. With tactile percussion and an almost industrial element to it, the way she sets the atmosphere taps into a deeply felt passion. Melodically dense the song at times even soars above opting for nearly a shoegaze-like wall of sound approach.
"Bring Back 2005" represents the best of pop punk, with Kevin Tiah's voice feeling reminiscent of Blink 182. Full of catchy hooks the song's nostalgia comes to define it. Percussion lets the song move forward with such energy.
On "Don't Try To Lie To Me" present a playful, shaggy-dog story courtesy of the Burning Peppermints' creativity. Infinitely colorful the song barrels forward with a maniacal energy. Full of distortion and feedback the song's chaos reigns supreme.
Site: http://www.bongoboytv.com/
By – Beachlsoth.com